Principal ballerina fired backstage because she was 'too tall'
5 January 2017, 09:19 | Updated: 6 January 2017, 14:45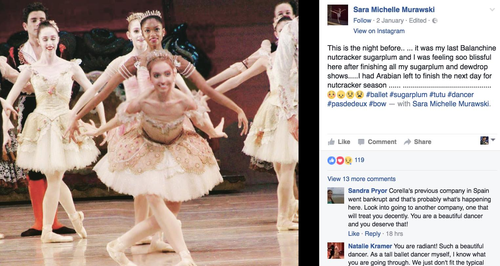 Ballerina Sara Michelle Murawski was dancing the lead in the Pennsylvania Ballet's production of The Nutcracker when she was told was too tall to dance with the company in the 2017/18 season.
According to philly.com, Murawski was informed of the decision as she was preparing to dance the Arabian Variation in George Balanchine's version of the Tchaikovsky ballet. It was the final performance of the festive season.

Murawski posted an emotional response on Facebook, saying:

"I came here with my deepest fear being that I wouldn't be wanted here or be rejected here in the States... and of course my height, which I have always been self conscious about."

She also paid tribute to her co-star, her colleagues and her family for supporting her.
Explaining the decision, executive director of the Pennsylvania Ballet David Gray released a statement:

"Building a world-class ballet company is similar to building a world-class sports team. Just as there are excellent athletes whose careers are better fulfilled at one team than another, there are excellent dancers who will better fulfil their potential at different companies."

Explaining the abrupt nature of how Murawski was told of the decision, he commented: "The sooner it becomes clear to the artistic director that a change will be coming at the end of the season, the sooner the impacted dancer can begin the audition process to find the place where they can thrive."