Popular Christmas carol 'Joy to the World' deemed "too religious" by Californian school
28 November 2019, 14:50 | Updated: 28 November 2019, 17:38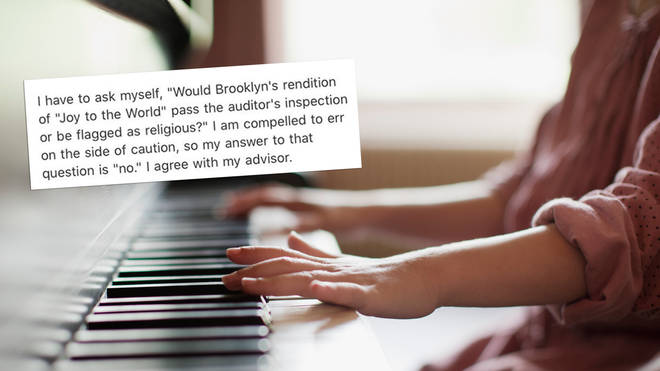 A 13-year-old pianist had to fight her case to perform the traditional Christmas carol after her school nearly prevented her performance.
A school in California tried to prevent a 13-year-old pianist from performing popular Christmas carol, 'Joy to the World' as it was deemed "too religious".
According to a Facebook post made public by the girl's mother, the school was uncomfortable with her daughter's choice of repertoire and to "err on the side of caution" suggested the pianist might perform 'Jingle Bells' instead as "People of all (or no) religions can enjoy it as a song of the winter season".
The pianist, whose name is Brooklyn Benzel, was backed up by her mum who corresponded with the school via email, making a case for the carol's wonderful Christmas message and lack of explicitly Christian content – while also pointing out that Benzel would not be singing the lyrics anyway – and eventually threatened to take legal action.
The school (South Sutter Charter School in California), apparently changed their position and allowed Benzel to perform the joyous carol as planned.
Read more: What are the lyrics to 'Joy to the World', and who actually composed the Christmas carol? >
"Don't mean to interrupt your Sunday afternoon football...," Benzel's mother, Julianne, writes on Facebook.
"Just keeping y'all aware: Brooklyn's piano sample for the semester 'Joy to the World' has been rejected as 'too religious'. You think we're going to relent even one bit?!? You know we'll take it as far as necessary."
Read her full description of how the on-again, off-again carol ban played out in the post below:
Read more: Music geeks are tearing apart this 'Joy to the World' cake and it's hilarious >
Who wrote the music for 'Joy to the World'?
Who indeed! The words to 'Joy to the World' were written by the English Christian minister and writer, Isaac Watts – but the melody's origins have been the subject of some confusion.
The tune most widely paired with Watts' text is 'Antioch', which is often poorly attributed to George Frideric Handel or Lowell Mason. 'Antioch' had been around in England for several years before Mason – a key figure in American church music – paired it with Watts' text and published it in the US (see hymnologyarchive.com for more).
Mason made a few changes to the tune – namely to the opening descending scale and its upward return – and credited it as "arranged from Handel", as it bears resemblance to some passages in Handel's Messiah.
If you listen carefully, you can hear the first four notes of 'Joy to the World' are the same as the first four in the Messiah's chorus Lift up your heads, while the hymn's third line can be heard in Comfort ye.
Joy indeed!