A pianist's grand piano broke on stage, and she dealt with it in the best way.
29 May 2020, 11:40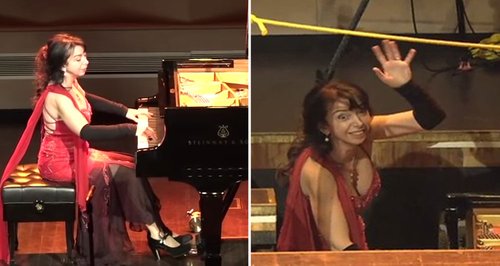 When this pianist's piano broke on stage, she dealt with it in the most hilarious and professional manner.
Brazilian pianist Eliane Rodrigues was all ready to give a performance of Chopin and Piazzolla at De Doelen in Rotterdam.
However, when she started the recital she noticed something wasn't quite right with the piano. One of the pedals was sticking, causing long, bassy notes to grumble out during her playing.
While the instrument was being replaced, Rodrigues decided to have a bit of fun with the resonating sound and perform for the audience in the meantime.
Even when the staff tried to manoeuvre around her to wheel away the piano and lower it below the stage, she continued to play and disappeared in style (watch below).
Read more: 'Speechless' musician finds $10k grand piano in the dumpster >
Want more grace under pressure?
Check out how this LSO oboist dealt with a reed malfunction...