The best Christmas presents for the music geek in your life
29 November 2019, 16:34 | Updated: 4 December 2019, 15:22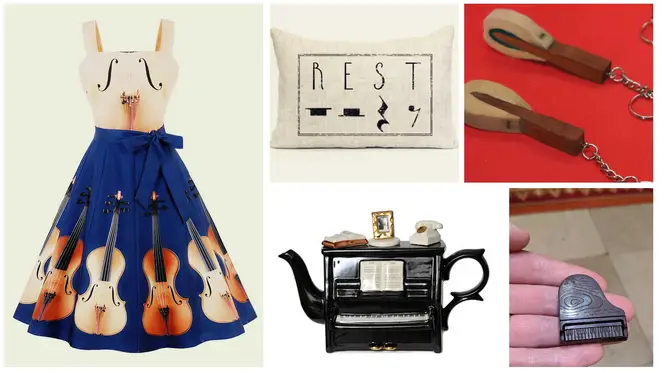 Promoted by NS&I
Struggling with the Christmas shopping? Here are the very best (and barmiest) music-themed gifts out there for your classical-loving friends.
An instrumental mug

If your muso friend has a desk job 5-9, they'll love the chance to not-so-subtly show their instrumental credentials to their colleagues.

Royal Opera House snow globe

A charming setting of London's great home of opera and ballet. Who wouldn't love to get this in the office secret Santa?

Royal Opera House snow globe.

Picture: Royal Opera House

A piano teapot

The gift your musical friend didn't know they needed.

Piano teapot.

Picture: Photo: Tony Carter

Because they're TOTES a musician

Who doesn't love a tote bag? You always need one, and it's a perfect way for a your classical friend to look sharp as they shop. Especially when said bag contains a somewhat cringe musical pun.

Piano hammer keyrings

Up-cycling is a theme here, but how charming are these re-purposed piano hammers?

Piano hammer keyring. Picture: Snekkeren / etsy

A flute lamp

This brand of woodwind decor is popular among instrumental up-cyclers, and it actually looks amazing.

'Hark! The Herald Angels Sing' mug

You'll only be able to use it for a month every year, but you'll never need to print off pesky sheet music for 'Hark! The herald' ever again.

Carol mug. Picture: Kevin Mayhew

Musical cupboard handles

"Pass the salt" "Where is it?" "In the bass clef drawer".

Musical cupboard.

Picture: Not on the High Street

Piano shoes

We're here to help with the Christmas CHOPIN.

A skirt for string players

A little treat

It's the season of irresistibly charming miniature confections...

And rest...

Christmas is a busy time, particularly for musicians. Make sure they get some of what's suggested on this perfect Boxing Day cushion....
Or, why not try something totally different?
If you're looking for something special to buy for the little ones in your life this festive season, why not try something new this Christmas. Now, for the first time, anyone (16 or over) can buy NS&I Premium Bonds for a child under 16, so you needn't be their parent or grandparent to help them on their savings journey.
Click here to find out more about NS&I Premium Bonds.