Jeremy Irons pretending to play the oboe is hilariously inaccurate
15 April 2016, 17:19 | Updated: 11 January 2017, 14:26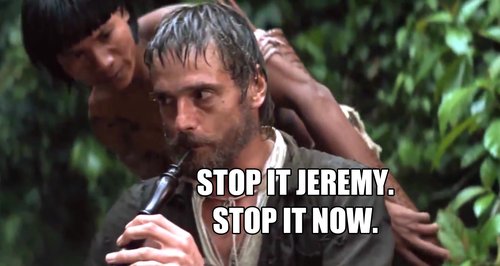 We love The Mission. We love Morricone. But we do not love Jeremy Irons' terrible oboe miming.
We know what you're doing, Jeremy Irons. But you're fooling no-one.
You think you're doing a really good job of playing the oboe, don't you? Well you're not.
You're not even moving your fingers at the same speed as the music. Your fingerings are all weird. There's even a bit when you move your fingers and the NOTE DOESN'T EVEN CHANGE. How could that happen, Jeremy Irons? How? How could a note be sustained if you just waggled your inaccurate and offensive fingers right off the keys? IT COULDN'T, COULD IT JEREMY?
Justified: