This Concerto for Page Turner is breaking down barriers for page turners everywhere
15 March 2017, 16:29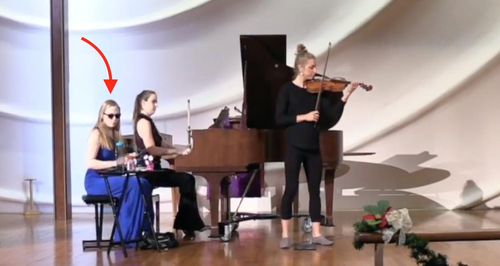 Shout out to all the forgotten page-turners. Always in our thoughts.
Oddly Noted aim to "challenge dress codes, revive silent audiences, and question crazy rules about classical music performance."
Founding member Kathleen Strahm states, "Oddly Noted is a collaboration of people, arts, and ideas who enjoy creating an enjoyable performance for you! Classical music meets humour in a casual setting involving high quality music performance and acting. After all, Mozart, Brahms and Saint-Saëns all had a sense of humour."

"We invite you to clap when you've enjoyed something, laugh when you think something is funny, and view classical music through comedy as we, Oddly Noted, make classical music human again!"
So, to all the forgotten page-turners who get asked to help a friend out last minute and get nothing more than the occasional thank you - this one is for you. We present Concerto for Page Turner No. 1, adapted from Mozart's Violin Concerto No. 1, performed by Oddly Noted:
You can find out more on their YouTube channel and on their site.