49 thoughts everyone has at a Christmas carol concert
12 December 2016, 11:23 | Updated: 11 January 2017, 14:26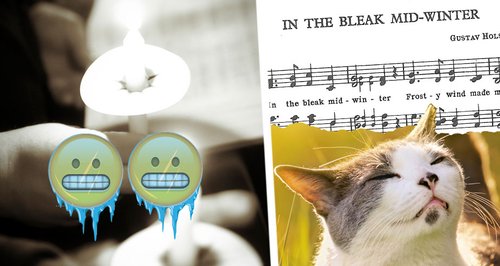 If you've sat through your share of carol concerts, you'll know what we mean.
1. I am in church.

2. This has not happened in some time.

3. It is cold.

4. Part of me wants to take my coat off, but you know, got to think about feeling the benefit later.
5. How are you supposed to behave in church again? Do I need to do a special hand signal or dance?

6. Definitely regret not bringing a cushion.

7. This building is huge! And the choir really is quite a long way away… the reality of having to sing communally in public is dawning on me in quite a profound way.

8. Ooh, procession! Look at them all walking! Can I smell incense?! *makes mental note to buy incense for home*

9. NO. WAY. 'Once In Royal David's City'. They are kicking off with an absolute stone-cold classic. Totally in.

10. That boy's voice is HIGH.

11. Aww, he has to do it all on his own.

12. I'm so nervous about the little boy.

13. Why do they make the little boy do this.

14. Oh, so we have to sing now? Could've done with some pointers there. Bit of crowd interaction from the Master of Ceremonies/Priest.
15. Too right we won't see him in that poor lonely stable! Too right not with the oxen standing by!

16. This is what it's all about. I am singing most confidently and enjoying myself. Christmas, thy name is… err… Carol.

17. Man. That was a belter. Right, next?

18. Angels From The Realms Of Glory. What even is that? Is that really a carol?

19. This is one of the first rules of mixtape etiquette, guys. Open with a classic, but follow it up with something even stronger. Not this.

20. Wow, the guy next to me is really singing these songs. Really, really singing them.

21. Don't get me wrong, his enthusiasm is a credit to him. There's just a small volume issue.
22. OK. Now we're back on track. O Come All Ye Faithful.

23. I am both joyful and triumphant. I will come immediately to Bethlehem. Well, not immediately. Maybe in a bit.

24. Anyone else ever wonder about candle budgets in church?

25. They must get through, like, dozens in a single day. Who pays for that? Is that a taxpayer thing? Are we paying for these candles? They are nice.

26. Fire hazard, though, obvs. There are many tapestries etc.

27. My buttocks have literally died from sitting on this pew. Oh yeah, carols. So, where are we?
28. YES, it's 'O Little Town Of Bethlehem'! The words are beautiful in this one. 'How still we see thee lie…' so poetic!

29. Poetic… but inaccurate. As if Bethlehem would've been dead silent - we already know the place was so full there was no room at the inn. It was probably like Hogmanay round there.

30. 'No ear may hear his coming,' eh? Seems like there were plenty of people around to write it all down at the time.

31. Ah forget it, this descant is majestic.

32. I have severely strained my voice attempting to sing the really high bit. Could actually do with something a bit less stirring next.
33. Oh, perfect. 'In The Bleak Midwinter'. The most serene, delicate and soothing of all the carols.

34. 'What can I bring him, poor as I am?' Wow, my mind is filling with modern parallels to this carol.

35. 'If I were a shepherd, I would bring a lamb.' 'If I were a wise man, I would do my part.' So what does that mean exactly? If you're shepherd, you should bring a portion of your livelihood, but if you're an intellectual you just have to turn up and look interested?

36. It's a class allegory, right? The upper classes give the impression of authority, but it's the labourers who actually contribute. Someone needs to write an essay on this stuff.
37. So yeah, 'In The Bleak Midwinter' is hella depressing.

38. It'd be great if someone could bring me some mulled wine right about now. None of that communion stuff. I want oranges floating in it and a hint of cloves in the bouquet. And it should be warm.

39. We're getting close to a payoff now, I can tell.

40. 'The Holly And The Ivy' is basically the poshest Christmas carol, isn't it? It's about the life cycle of a plant, interior design tips and tramping about in the woods. The Chipping Norton of Christmas carols.
41. It's so darn jolly though, it's literally impossible to resist.

42. I am involuntarily singing this in a plummy accent. It's like there's no other way to do it.

43. Considering a head-bob and a posh laugh.

44. If people don't applaud this carol when it's done, I'll be disappointed.

45. Oh. Forgot. No-one claps in church unless you get married.

46. More processing. Wonder if the head of the procession has ever been followed on his way to the toilet by a confused entourage.

47. And… they're clear! Christmas is officially here!

48. It's safe to say the difference in temperature outside compared to inside is minor.

49. SOMEBODY MULL ME SOME WINE THIS INSTANT.