'When I play Ravel's Left Hand Concerto my goal is to make it sound like I have THREE hands'
4 November 2016, 17:07 | Updated: 5 January 2017, 12:31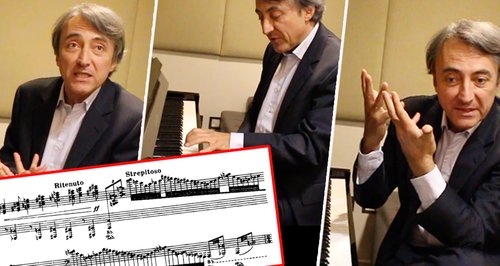 Ravel's Piano Concerto for the Left Hand is one of the hardest concertos ever written. We caught up with one of today's very best pianists, Jean-Efflam Bavouzet, to take us through the tricky bits
A bit of background
Ravel's Piano Concerto for the Left Hand was commissioned in 1929 by the pianist Paul Wittgenstein, who had lost his arm during World War I.
Wittgenstein gave the premiere of the piece in 1932 and ever since it's been a firm audience favourite.
Jean-Efflam Bavouzet is renowned for his performances of Ravel's music, so just before he went on stage to perform this work at the Southbank Centre with the orchestra Les Siècles, we asked him to give us a guide to the piece.
What's the trickiest moment?
This bit does look absolutely terrifying…
What's your favourite moment of the concerto?
Well, ok, you can pick two.
What are the challenges of learning Ravel's Concerto for Left Hand?
Ok, diving into the piece in more depth: what are the particular challenges of learning this concerto. After all, most concertos Jean-Efflam performs are for two hands.
What makes it particularly tricky to play?
The piano part involves some pretty hair-raising jumping around the keyboard – so much so that Jean-Efflam has to hold on the end of the piano which his other hand, as he demonstrates here.
People often talk about this as quite a 'jazzy' concerto – what do they mean by that?
It also turns out that the melodic writing is pretty unusual too
The melody, as Jean-Efflam explains, is hidden in amongst arpeggios and you have to really work to bring it out. Here he is doing just that pretty effortlessly.
Jean-Efflam's recording of Ravel's Left Hand Piano Concerto is available to buy now on Amazon and iTunes.
And his latest recording – of Beethoven Sonatas is also out now on Amazon and iTunes.