This is precisely how Puccini operas leave you a blubbering mess
26 June 2018, 17:38 | Updated: 29 June 2018, 09:36

Promoted by Opera North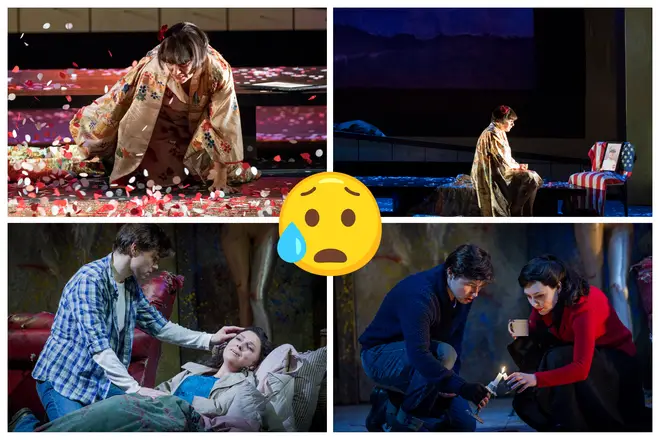 Puccini's great operas will break your heart - we caught up with some of the stars of Opera North to find out how.
Opera doesn't get much more majestic, overwhelming and emotional than La bohème, Madama Butterfly, Turandot and Tosca. Their ability to get anyone right in the feels makes them the perfect operas for both newcomers, and seasoned opera-lovers. If you're in for a night of tragedy and emotion, Opera North's Tosca tours the North from Sep-Nov 2018, click here for more information.
What the maestro thinks...
Conductor Jac van Steen, who has previously worked on some of Puccini's operas at Opera North, says there are three key aspects of Puccini's writing which cause his music to touch our emotions: honesty, simplicity and purity.
"Honesty because there is a high quality of honesty in the music. Oftentimes there is just one single, pure emotion being expressed. Simplicity because Puccini's arias are enormously simple. So simple that they become unique. In contrast to the music of, for example, Richard Strauss, where there are many different musical ideas going on, with Puccini there will often just be one. And then Purity, which goes shoulder to shoulder with honesty."
According to the star tenor
Puccini writes fantastic tenor heroes, with soaring high notes and alluring melodies. We asked tenor Rafael Rojas, who plays Mario Cavaradossi in Opera North's upcoming production of Tosca, which one Puccini moment we should all be listening to. "It is a difficult task to choose the opera or scene from Puccini that moves me the most, but this time it comes to me strongly, the last Minnie's aria from La fanciulla del West when she is talking to all the men that will soon kill her beloved and convincing them one by one to forgive him and let them go in peace by appealing to their compassion. It is a very deep and powerful scene." 
The heart-tugging emotion in Puccini's music can be felt by anyone, as Rafael's recent performance of Nessun Dorma in a Leeds shopping centre proves:
Shoppers in Leeds are completely surprised by this incredible performance!
Emotional, dramatic sopranos

Puccini has some of opera's greatest, most show-stopping soprano moments. Internationally renowned soprano Anne Sophie Duprels says about Puccini's Madama Butterfly: "It's a rollercoaster and you have to keep your head clear when your heart is ripped apart. As a performer, you can't go through her emotions yourself, you have to transmit those emotions to the audience for them to experience."
Here's Anne Sophie with a moment of pure human tragedy from Puccini's 'Suor Angelica':
'Senza mamma' | Puccini's Suor Angelica | Anne Sophie Duprels
And finally (literally)
Puccini does incredible endings, from the off-stage cries of "Butterfly", to the lonely devastation of La rondine, to the full on sobbing of Rodolfo's heartbreak in La Boheme.
Bass-baritone John Savournin, who's singing Cesare Angelotti in Opera North's Tosca, plumps for Boheme: "The part of Puccini which moves me most is the final scene of La bohème when Mimi is surrounded by her old friends and her love, Rodolfo. Those repeated minor chords on the last page never fail to grab me by the heartstrings."
Here's how you can win tichets to Opera North's autumn season