This is what Mozart's own violin actually sounds like (spoiler: it's delightful)
25 January 2017, 17:50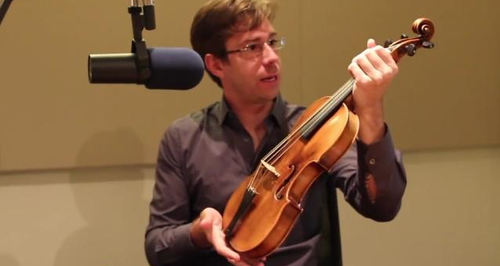 Oh, not much to see here, just the violin that Mozart composed countless works of genius with...
This is the holy grail of violins
Wolfgang Amadeus Mozart liked to have a good number of instruments lying around his music room and owned a number of violins. We're interested in this one, made by the Klotz family of luthiers in southern Germany around 1700. Today, it lives in the Salzburg Mozarteum under lock and key.
Back in 2013, the violin got a special treat: its first trip to the USA. For its New York debut, the Klotz violin was played by composer, violinist and all-round Mozart fanboy David Fulmer.
Here he is, giving it an affectionate pat on the bottom:
He had a few things to say about the Klotz violin: firstly, it's in great condition and is essentially a window into the past. "It's incredible to think that Mozart not only used this as a performer, but also as a composer - and on this very violin he wrote and played his five violin concerti and the monumental masterpiece of the Sinfonia Concertante K364."
It's quieter than modern instruments, apparently. Here's Fulmer playing an excerpt of Mozart's Violin Sonata in C K296: