Orchestra passionately mimes Mozart 'Dies Irae' in protest – after police banned their instruments
18 September 2023, 13:27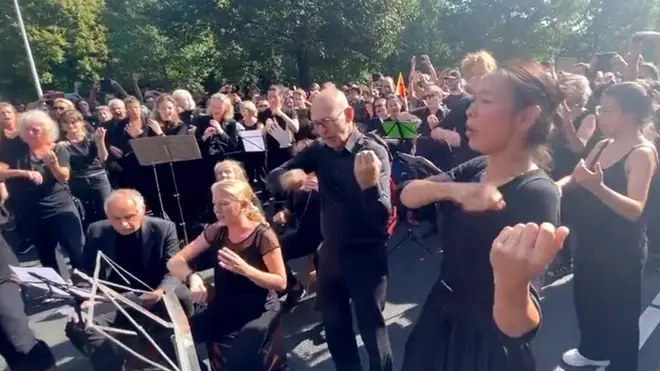 Following arrests and water cannons, an orchestra played without their instruments in an Extinction Rebellion demonstration in the Dutch capital.
MAn orchestra performed Mozart without their instruments this weekend, as part of an Extinction Rebellion protest in the Netherlands.
Footage shows them playing invisible instruments and singing their parts in a performance of a movement from the composer's final work, his Requiem.
Protests are taking place on the A12 motorway in The Netherlands, blocking a major highway which connects to The Hague, the seat of the Dutch government. The protesters are demanding an end to fossil fuel subsidies in the country.
Supporters of Extinction Rebellion had been blocking the road every day since last Saturday, and police have made thousands of arrests, using water cannons to disperse protesters.
The group of musicians who have joined the demonstrations call themselves the 'A12 Orchestra'.
A video shared to the social media platform X, formerly Twitter, on Saturday shows members of the orchestra performing Mozart's 'Dies Irae' on the road, but miming without instruments.
Read more: Extinction Rebellion activists halt Verdi Requiem at Concertgebouw, comparing to 'sinking Titanic'
"The police forbade us to bring the instruments on the highway, so we sang the parts and mimed," said composer Michel van der Aa, as he shared the video.
"They can take our instruments, but they will not take our voice."
Away from the road, musicians with instruments also joined the ongoing demonstrations.
The 'Dies Irae' is a movement of the Requiem, sung in church settings. Its text conveys the 'day of judgment', and is often set dramatically by composers.
Nog geen 24 uur geleden bedacht ik me dat het me geweldig zou lijken om mee te doen in het A12-orkest. Met nul koorervaring stampte ik Mozarts Dies Irae in m'n hoofd en daar sta ik dan hoor. Knikkende knieën en klotsende oksels, maar wat was het bijzonder! #StopFossieleSubsidies pic.twitter.com/zCwfFODKCF

— Wouter Waayer (@wouterwaayer) September 16, 2023
The performances were part of Extinction Rebellion protests which began over a week ago.
In a statement, the group said: "From Saturday 9 September at 12:00, Extinction Rebellion will block the A12 between the Ministry of Economic Affairs and Climate, and the temporary parliament building, until the government complies with its demand: an immediate stop to all fossil subsidies."
Protests on this key part of the Netherlands' transport network date back months. Members of an orchestra also demonstrated on the road in May, playing Beethoven's Symphony No.7.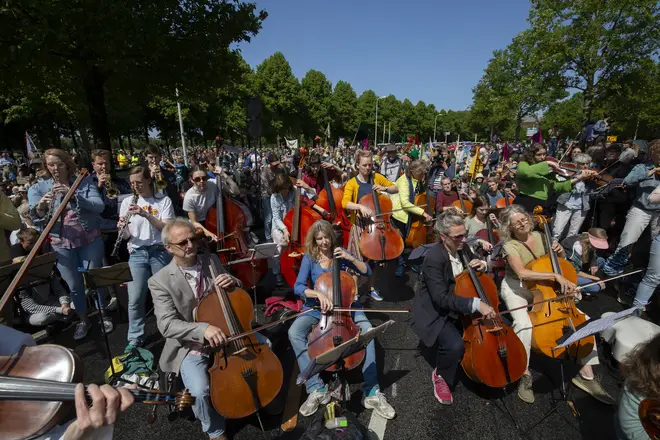 The fossil fuel protests are taking place ahead of the United Nations Climate Ambition Summit on 20 September 2023, in New York.