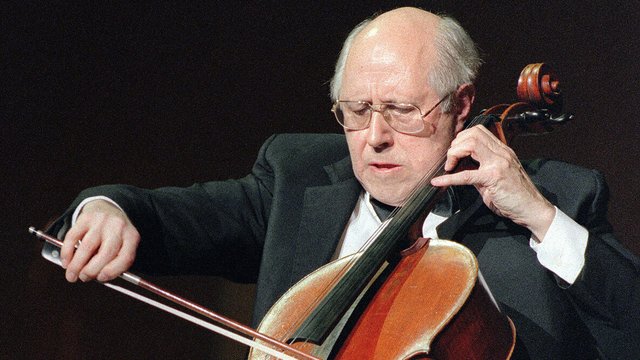 Biography
His father was a distinguished cellist who had studied with Pablo Casals and his mother was a pianist.

From 1943 to 1948, he studied composition with Shostakovich and Prokofiev at the Moscow Conservatory.

In 1945, he won the gold medal in the first ever Soviet Union competition for young musicians.

He became professor of cello at the Conservatory in 1956.

Most of his life was lived abroad from the Soviet Union as a result of his support for the banned Nobel prize writer Alexander Solzhenitsyn.

Consequently his concerts and recording projects were cancelled. He was granted an exit visa in 1974 but in 1978 he was stripped of his Soviet citizenship.

His return to the Soviet Union was marked when, as the Berlin Wall came down, he performed a Bach suite.

Rostropovich became known in the West as a result of his time abroad and recorded a large part of the cello literature as well as encouraging and new cello repertoire through his contact to composers such as Benjamin Britten, who wrote his Cello Symphony, his Sonata for Cello and Piano and the three Suites for Solo Cello.

Prokofiev, Shostakovich, Boulez, Berio, Khachaturian, Messiaen, Schnittke, Bernstein, Dutilleux and Lutoslawski have also written for Rostropovich.

He was Music Director of the National Symphony Orchestra, Washington and a regular guest conductor of the Berlin Philharmonic, the Boston Symphony Orchestra, the London Symphony Orchestra and the London Philharmonic. Sony Classical recent recordings include Schnittke's Cello Concerto No. 2 and 'In Memoriam', and 'Return to Russia, an audio and video documentation of Rostropovich's tour of Russia in 1990 with the National Symphony Orchestra, Washington.
View more
Most shared Mstislav Rostropovich features