Bryn Terfel: who is the Welsh bass-baritone? Age, family, songs and height revealed
24 April 2023, 14:35 | Updated: 3 May 2023, 09:02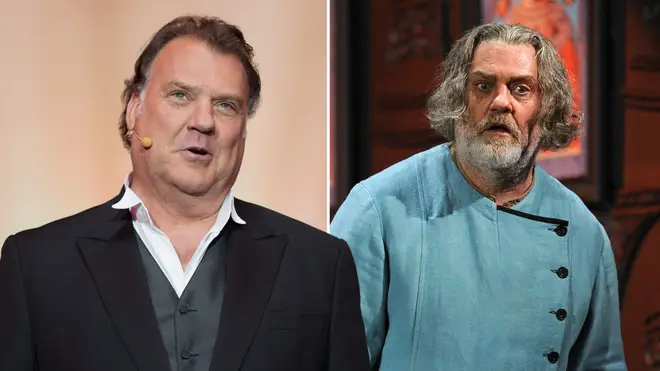 Celebrated Welsh bass-baritone Bryn Terfel is as much at home singing Wagner as Rodgers and Hammerstein. From his songs and operatic roles, to his wife and family, here's everything you need to know.
Among the most famous Welsh singers in the world, brilliant bass-baritone Bryn Terfel will help make history on Saturday 6 May, giving the first-ever Welsh language performance at a coronation as Charles III is crowned King.
Here's everything you need to know about the star of opera, musical theatre and beyond.
Read more: What music will feature at His Majesty the King's coronation at Westminster Abbey?
How old is Bryn Terfel?

Bryn Terfel Jones was born on 9 November 1965 in north west Wales, in the county of Gwynedd, into a Welsh farming family. He chose just 'Bryn Terfel' as his professional name, to avoid confusion with another Welsh baritone, Delme Bryn-Jones.

Young Bryn showed promise in music from a very early age. He was taught to sing traditional Welsh songs by a family friend and went on to win numerous competitions.

Read more: Charlotte Church: singing career, family, house and more facts about the Welsh soprano

Bryn Terfel as Figaro in 'The Marriage of Figaro' at ENO at the London Coliseum in 1991.

Picture: Alamy

Where does Bryn Terfel live?

Bryn's home is Penarth, south Wales. The singer's first language is Welsh.

A proud patron of the Welsh language and Welsh culture, Terfel is seen here singing the Welsh national anthem prior to kick-off at the FIFA World Cup 2010 Qualifying Round match between Wales and Liechtenstein at Cardiff's Millennium Stadium.

Terfel sings the Welsh national anthem at Cardiff's Millennium Stadium.

Picture: Alamy

How did Bryn Terfel find fame?

Terfel moved to London in 1984 to study at the Guildhall School of Music, where he won both the Kathleen Ferrier Memorial Prize and the Gold Medal, when he graduated.

In 1989 Terfel came second in the Cardiff BBC Singer of the World Competition, behind the late great Dmitri Hvorostovsky in what came to be known as 'the Battle of the Baritones'.

Countless awards have followed including British Artist of the Year at the Classical BRIT Awards in 2000, and four Grammy wins including for best Classical Vocal Solo.

Bryn Terfel receives awards for Male Artist of the Year and Album of the Year during the 5th annual Classical BRIT Awards 2004.

Picture: Alamy

How tall is Bryn Terfel?

Bryn is 1.93m tall – or 6'3" in feet and inches.

Read more: Opera singer Bryn Terfel cancels several performances after breaking his ankle

Fans begin singing Welsh songs as Bryn Terfel signs autograph

Who are Bryn Terfel's wife and children?

In 2019, Bryn Terfel married Welsh harpist Hannah Stone, formerly the official harpist of King Charles, then the Prince of Wales.

The couple have one daughter together, who was born on 5 May 2017.

Terfel was previously married to his childhood sweetheart, Lesley Jones, in 1987 until their divorce in 2013. Terfel and Jones have three sons together.

Read more: Bryn Terfel marries harpist Hannah Stone in 'magical' ceremony in Wales

Bryn Terfel and Hannah Stone at the Savoy Hotel, London on Sunday 1 July, 2018.

Picture: Alamy

What operatic roles has Bryn Terfel played?

Terfel made his operatic debut in 1990 as Guglielmo in Mozart's Così fan tutte at the Welsh National Opera. Major roles soon followed with performances in Santa Fe, Salzburg, Vienna, New York and Chicago.

In 1992 he made his Royal Opera House debut as Masetto in Don Giovanni. The same year, he had his big international breakthrough as Jochanaan in Strauss' Salome at the Salzburg Festival.

Initially best known for roles of Mozart, Terfel has more recently shifted to the heftier vocal challenges of Puccini and Wagner. He sang the role of Wotan in Covent Garden's revival of the Ring Cycle in 2012.

Bryn Terfel on his favourite role

Is Bryn Terfel knighted?

In 2006, Terfel became the second recipient of the Queen's Medal for Music. The previous recipient was conductor Sir Charles Mackerras. Queen Elizabeth II presented the medal during a special concert to celebrate her 80th birthday in 2006.

In 2017, Sir Bryn received a knighthood for his services to music.

In May 2023, the bass-baritone will perform at the coronation service of His Majesty King Charles III at Westminster Abbey, alongside the Choir of Westminster Abbey. His rendition of Paul Mealor's 'Coronation Kyrie' will mark the first-ever Welsh language performance at a coronation.

Sir Bryn Terfel was knighted for services to music by Queen Elizabeth II during an Investiture ceremony at Buckingham Palace, London.

Picture: Getty

Which singers has Bryn Terfel performed with?

Bryn Terfel has stood up on stage with stars of the classical and pop worlds – as well as Hollywood royalty.

In September 2011, Bryn performed with Italian tenor Andrea Bocelli on the great lawn of Central Park, New York, for more than 70,000 people.

In 2018, his album Dreams and Songs featured duets with Alfie Boe, Katherine Jenkins, Joseph Calleja and Danielle De Niese. There were also vocal appearances from comedian and actor Rob Brydon, and acting royalty Emma Thompson, with whom Terfel famously starred in Sweeney Todd, as the demon barber and his accomplice.

Bryn Terfel and Andrea Bocelli perform the Pearl Fishers duet

Does Bryn Terfel sing musical theatre?

Bryn Terfel has recorded albums of songs from the great musicals of Lerner and Loewe and Rodgers and Hammerstein.

In 2007, appeared as Sweeney Todd in the Stephen Sondheim musical with Philip Quast at the Royal Festival Hall in London – and seven years later, he reprised the role in the Live from Lincoln Center concert production, with Emma Thompson as Mrs Lovett.

Emma Thompson (Mrs Lovett), Bryn Terfel (Sweeney Todd) with English National Opera in 2015.

Picture: Alamy

What albums has Bryn Terfel released?

Sir Bryn released his debut album, Bryn Terfel, Vol.1 in 1988. He has since released multiple recordings with Deutsche Grammophon, including Bad Boys (2010), a selection of villain songs and arias from Sweeney Todd, Porgy and Bess, Don Giovanni and more.

On 19 October 2018, Sir Bryn released his first album in five years, Dreams and Songs, a selection of well-known and traditional piece, in which he stepped away from the dramatic opera roles in exchange for musical numbers and duets.

Sir Bryn Terfel sings 'I Believe' from Dreams and Songs