Classic FM Chart: Renée Fleming's new album Distant Light enters the chart at no. 8
13 January 2017, 18:55 | Updated: 20 January 2017, 15:25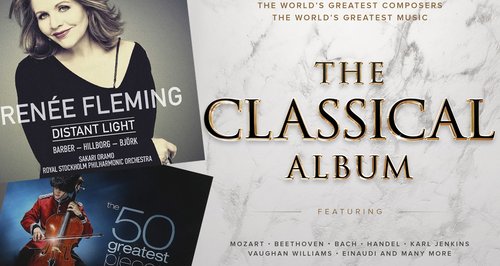 15th January: Last week's top re-entries The Classical Album and The 50 Greatest Pieces of Classical Music switch around, at no. 1 and no. 2, and Renée Fleming's new album is the highest new entry at no. 8.
Last week, The 50 Greatest Pieces of Classical Music and The Classical Album re-entered the chart at no. 1 and no. 2 and this week they have swapped places. Meanwhile, Ludovico Einaudi's Islands climbs four places to no. 3 and last week's third-place entry Rogue One falls one place.
The highlight of this week's chart is the new album release from Renée Fleming and the Royal Stockholm Philharmonic Orchestra, which enters the chart at no. 8. The title Distant Light comes from a poem in a new song cycle dedicated to Renée and this is its world premiere recording: Anders Hillborg's The Strand Settings. This is Renée Fleming's first venture into the hypnotic world of Scandinavian music and the album also includes music from Björk as well as Samuel Barber.
Renée spoke to Classic FM about the release of her latest album and you can find out more here.
Elsewhere in the chart, the biggest rise is from John Williams's score for Star Wars - Return of the Jedi jumping from no. 12 to no. 6, and the largest drop is also from John Williams but for his score for Star Wars - A New Hope which drops 12 places.
Other new entries include the soundtrack to the new film Assassin's Creed and the Vienna Philharmonic's New Year's Concert 2017, with re-entries from Lord of the Rings: Trilogy soundtrack from Howard Shore and Olafur Arnalds's Island Songs.
This
Week
Last
Week
Title & Artist
1
2
THE CLASSICAL ALBUM, VARIOUS ARTISTS


Buy from Amazon

-

Download from iTunes

2
1
THE 50 GREATEST PIECES OF CLASSICAL MUSIC, LPO/PARRY


Buy from Amazon

-

Download from iTunes

3
7
ISLANDS - ESSENTIAL EINAUDI, LUDOVICO EINAUDI


Buy from Amazon

-

Download from iTunes

4
3
ROGUE ONE - A STAR WARS STORY - OST, MICHAEL GIACCHINO


Buy from Amazon

-

Download from iTunes

5
6
BILL TURNBULL'S RELAXING CLASSICS, VARIOUS ARTISTS


Buy from Amazon

-

Download from iTunes

6
12
STAR WARS - RETURN OF THE JEDI - OST, LSO/WILLIAMS


Buy from Amazon

-

Download from iTunes

7
8
ONE VOICE, ALED JONES


Buy from Amazon

-

Download from iTunes

8
NEW
BARBER/HILLBORG/BJORK/DISTANT LIGHT, FLEMING/RSPO/ORAMO


Buy from Amazon

-

Download from iTunes

9
4
BRUNO TONIOLI: AN ITALIAN ROMANCE, VARIOUS ARTISTS


Buy from Amazon

-

Download from iTunes

10
5
ONE VOICE AT CHRISTMAS, ALED JONES


Buy from Amazon

-

Download from iTunes

11
11
STAR WARS - EPISODE 5 - THE EMPIRE, LSO/WILLIAMS


Buy from Amazon

-

Download from iTunes

12
16
ELEMENTS, LUDOVICO EINAUDI


Buy from Amazon

-

Download from iTunes

13
15
BACH/CANTATAS 54 82 & 170, DAVIES/ARCANGELO/COHEN


Buy from Amazon

-

Download from iTunes

14
18
GAME OF THRONES - SEASON 6 - OST, RAMIN DJAWADI


Buy from Amazon

-

Download from iTunes

15
10
THE LOST SONGS OF ST KILDA, MORRISON/SFO/MACMILLAN


Buy from Amazon

-

Download from iTunes

16
14
PLANET EARTH 2 - OST, HANS ZIMMER/J SHEA/J KLEBE


Buy from Amazon

-

Download from iTunes

17
20
BELIEVE, JONATHAN ANTOINE


Buy from Amazon

-

Download from iTunes

18
22
FANTASTIC BEASTS AND WHERE TO FIND THEM, JAMES NEWTON HOWARD


Buy from Amazon

-

Download from iTunes

19
13
STAR WARS - THE FORCE AWAKENS - OST, JOHN WILLIAMS


Buy from Amazon

-

Download from iTunes

20
23
CINEMA, ANDREA BOCELLI


Buy from Amazon

-

Download from iTunes

21
9
STAR WARS - EPISODE 4 - A NEW HOPE - OST, LSO/WILLIAMS


Buy from Amazon

-

Download from iTunes

22
NEW
ASSASSIN'S CREED - OST, JED KURZEL


Buy from Amazon

-

Download from iTunes

23
21
YOU'LL NEVER WALK ALONE - THE COLLECTION, ALFIE BOE


Buy from Amazon

-

Download from iTunes

24
19
IN A TIME LAPSE, LUDOVICO EINAUDI


Buy from Amazon

-

Download from iTunes

25
17
A YEAR OF SONGS, ALEXANDER ARMSTRONG


Buy from Amazon

-

Download from iTunes

26
NEW
NEW YEAR'S CONCERT 2017, VP/DUDAMEL


Buy from Amazon

-

Download from iTunes

27
24
CLASSIC FM - A NIGHT AT THE MOVIES, VARIOUS ARTISTS


Buy from Amazon

-

Download from iTunes

28
28
MORRICONE 60, ENNIO MORRICONE


Buy from Amazon

-

Download from iTunes

29
RE
THE LORD OF THE RINGS - TRILOGY - OST, HOWARD SHORE


Buy from Amazon

-

Download from iTunes

30
RE
ISLAND SONGS, OLAFUR ARNALDS


Buy from Amazon

-

Download from iTunes