Classic FM Chart: Andrea Bocelli's new album enters at No.1
4 November 2018, 18:55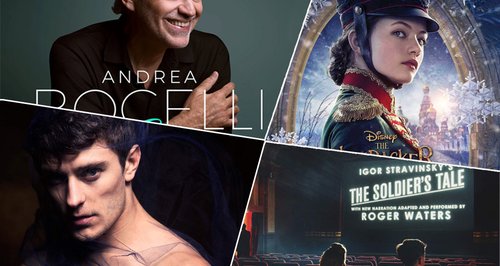 Andrea Bocelli's new album 'Sì' enters at No.1, ahead of another six new releases in the chart.
The Classic FM Chart welcomes an impressive seven new releases this week. Andrea Bocelli's new album Sì features 16 new songs with guest appearances from Ed Sheeran, Dua Lipa, Josh Groban and his son Matteo Bocelli. As past success would predict, his album has entered the chart at No.1, moving Bryn Terfel's popular album Dreams and Songs to No.2.
Sì has also made it to the top of The Official UK Albums Chart – the first time a classical artist has claimed the spot since The Three Tenors in 1994!
Other new releases in the chart this week are Stravinsky's The Soldier's Tale, narrated by Roger Waters, Anima Sacra by counter-tenor Jakub Józef Orliński, Requiem – The Pity of War, The Nutcracker and the Four Realms, and Bach 333, a new collection of the complete works of Bach.
This
Week
Last
Week
Title & Artist
1
NEW
SI, ANDREA BOCELLI


Download from iTunes

-

Buy from Amazon

2
1
DREAMS AND SONGS, BRYN TERFEL


Download from iTunes

-

Buy from Amazon

3
3
EVOLUTION, ALEXIS FFRENCH


Download from iTunes

-

Buy from Amazon

4
2
ISLANDS - ESSENTIAL EINAUDI, LUDOVICO EINAUDI


Download from iTunes

-

Buy from Amazon

5
7
INSPIRATION, SHEKU KANNEH-MASON


Download from iTunes

-

Buy from Amazon

6
14
JOHN WILLIAMS - A LIFE IN MUSIC, LSO/GREENAWAY


Download from iTunes

-

Buy from Amazon

7
NEW
THE SOLDIER'S TALE, ROGER WATERS


Download from iTunes

-

Buy from Amazon

8
4
THE REAL CLASSICAL, VARIOUS ARTISTS


Buy from Amazon

9
NEW
ANIMA SACRA, ORLINSKI/IL POMO D'ORO


Download from iTunes

-

Buy from Amazon

10
6
THE GREAT WAR SYMPHONY, HAWES/RPO/NATIONAL YOUTH CHRS


Download from iTunes

-

Buy from Amazon

11
23
DESTINATION RACHMANINOV - DEPARTURE, TRIFONOV/PHILADELPHIA OR


Download from iTunes

-

Buy from Amazon

12
5
THE LITTLE MERMAID - OST, ALAN MENKEN


Download from iTunes

-

Buy from Amazon

13
NEW
REQUIEM - THE PITY OF WAR, IAN BOSTRIDGE/ANTONIO PAPPANO


Download from iTunes

-

Buy from Amazon

14
NEW
THE NUTCRACKER AND THE FOUR REALMS - OST, JAMES NEWTON HOWARD


Download from iTunes

-

Buy from Amazon

15
15
CINEMA, ANDREA BOCELLI


Download from iTunes

-

Buy from Amazon

16
8
THE 50 GREATEST PIECES OF CLASSICAL, LPO/PARRY


Download from iTunes

-

Buy from Amazon

17
10
DIVENIRE, LUDOVICO EINAUDI


Download from iTunes

-

Buy from Amazon

18
12
SLEEP, MAX RICHTER


Download from iTunes

-

Buy from Amazon

19
NEW
BACH/333 - THE NEW COMPLETE EDITION, VARIOUS ARTISTS


Buy from Amazon

20
9
THE LORD OF THE RINGS - TRILOGY - OST, HOWARD SHORE


Download from iTunes

-

Buy from Amazon

21
NEW
FIRST MAN - OST, JUSTIN HURWITZ


Download from iTunes

-

Buy from Amazon

22
20
THE BLUE NOTEBOOKS, MAX RICHTER


Download from iTunes

-

Buy from Amazon

23
13
THE LORD OF THE RINGS - OST, HOWARD SHORE
24
28
THE COMPLETE HARRY POTTER FILM MUSIC, CITY OF PRAGUE PO


Download from iTunes

-

Buy from Amazon

25
18
GLADIATOR - OST, HANS ZIMMER & LISA GERRARD


Download from iTunes

-

Buy from Amazon

26
21
IN A TIME LAPSE, LUDOVICO EINAUDI


Download from iTunes

-

Buy from Amazon

27
19
SCORE, 2CELLOS


Download from iTunes

-

Buy from Amazon

28
22
ELEMENTS, LUDOVICO EINAUDI


Download from iTunes

-

Buy from Amazon

29
29
BACH/SIX EVOLUTIONS - CELLO SUITES, YO-YO MA


Download from iTunes

-

Buy from Amazon

30
26
HARRY POTTER & THE PHILOSOPHER'S STONE, JOHN WILLIAMS


Download from iTunes

-

Buy from Amazon