Classic FM Chart: André Rieu enters at No. 3 ahead of Christmas albums
16 December 2018, 18:55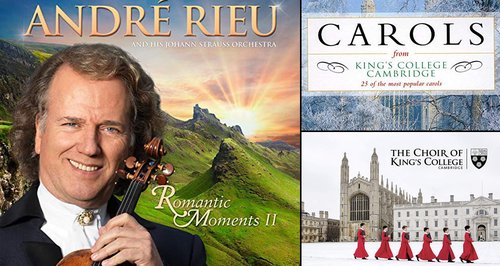 Andrea Bocelli remains at No. 1 for his seventh consecutive week – can he stay on top for the Christmas No. 1 spot?
Christmas Day is just weeks away – but the festive season hasn't had an impact on the chart's frontrunners.
Aled Jones and Russell Watson have moved up to No. 2 with their album In Harmony this week, followed by a new entry that has jumped straight to the top – Romantic Moments II by André Rieu and the Johann Strauss Orchestra.
With the dominance of carols and King's College Choir, Einaudi has slipped off the top 10 this week and Islands now sits at No. 12.
Seven re-entries are in the lower half of the chart including Yo-Yo Ma's most recent album Six Evolutions – Bach: Cello Suites at No. 18 and five albums of carols from King's College, Cambridge.
This
Week
Last
Week
Title & Artist
1
1
SI, ANDREA BOCELLI


Download from iTunes

-

Buy from Amazon

2
3
IN HARMONY, ALED JONES & RUSSELL WATSON


Download from iTunes

-

Buy from Amazon

3
NEW
ROMANTIC MOMENTS II, ANDRE RIEU & JOHANN STRAUSS OR


Download from iTunes

-

Buy from Amazon

4
2
GUIDING LIGHT, KATHERINE JENKINS


Download from iTunes

-

Buy from Amazon

5
6
CAROLS FROM KING'S COLLEGE CAMBRIDGE, KING'S COLLEGE CHOIR/WILLCOCKS


Download from iTunes

-

Buy from Amazon

6
4
THE ULTIMATE CLASSICAL COLLECTION, VARIOUS ARTISTS


Download from iTunes

-

Buy from Amazon

7
5
DREAMS AND SONGS, BRYN TERFEL


Download from iTunes

-

Buy from Amazon

8
7
100 YEARS OF NINE LESSONS & CAROLS, KING'S CC/WILLCOCKS/LEDGER


Download from iTunes

-

Buy from Amazon

9
8
INSPIRATION, SHEKU KANNEH-MASON


Download from iTunes

-

Buy from Amazon

10
14
ESSENTIAL CAROLS, KING'S COLLEGE CHOIR/WILLCOCKS


Download from iTunes

-

Buy from Amazon

11
9
BEST OF CHRISTMAS, ANDRE RIEU & JOHANN STRAUSS OR


Download from iTunes

-

Buy from Amazon

12
10
ISLANDS - ESSENTIAL EINAUDI, LUDOVICO EINAUDI


Download from iTunes

-

Buy from Amazon

13
13
HOME ALONE - OST, JOHN WILLIAMS


Download from iTunes

-

Buy from Amazon

14
15
CHRISTMAS AT KING'S, KING'S COLLEGE CHOIR


Download from iTunes

-

Buy from Amazon

15
12
EVOLUTION, ALEXIS FFRENCH


Download from iTunes

-

Buy from Amazon

16
25
CLASSIC FM - CAROLS WITH ST PAUL'S, ST PAUL'S CATHEDRAL CH/CARWOOD


Download from iTunes

-

Buy from Amazon

17
16
THE NATION'S FAVOURITE CAROLS, RPO/CITY LONDON CH/WETTON


Download from iTunes

-

Buy from Amazon

18
RE
BACH/SIX EVOLUTIONS - CELLO SUITES, YO-YO MA


Download from iTunes

-

Buy from Amazon

19
23
THE COLOURS OF CHRISTMAS, JOHN RUTTER


Download from iTunes

-

Buy from Amazon

20
19
THE JOHN RUTTER CHRISTMAS ALBUM, CAMBRIDGE SINGERS/RUTTER


Download from iTunes

-

Buy from Amazon

21
20
THE GREAT BRITISH CAROL COLLECTION, CHOIR OF TRINITY COLLEGE


Download from iTunes

-

Buy from Amazon

22
21
CAROLS FROM CAMBRIDGE - THE VERY BEST, KING'S COLLEGE CHOIR
23
18
JOHN WILLIAMS - A LIFE IN MUSIC, LSO/GREENAWAY


Download from iTunes

-

Buy from Amazon

24
RE
THE KING'S CHRISTMAS COLLECTION, KING'S CC/WILLCOCKS/LEDGER


Buy from Amazon

25
24
CHRISTMAS CLASSICAL VOICES, VARIOUS ARTISTS


Download from iTunes

-

Buy from Amazon

26
RE
FAVOURITE CAROLS FROM KING'S, KING'S COLLEGE CHOIR


Download from iTunes

-

Buy from Amazon

27
RE
THE REAL CLASSICAL, VARIOUS ARTISTS


Buy from Amazon

28
RE
CLASSIC FM - CAROLS FROM KING'S, KING'S COLLEGE CHOIR/WILLCOCKS


Download from iTunes

-

Buy from Amazon

29
RE
FAVOURITE CAROLS FROM KING'S, KING'S CC/WILLCOCKS/LEDGER


Download from iTunes

-

Buy from Amazon

30
RE
NOEL - CHRISTMAS AT KING'S, KING'S COLLEGE CHOIR/WILLCOCKS


Download from iTunes

- Buy from Amazon