Rachmaninov's Piano Concerto No.2 tops Classic FM Hall of Fame in composer's 150th anniversary year
10 April 2023, 20:50
There's a new number one in the Classic FM Hall of Fame, as Rachmaninov's second piano concerto tops the chart for the first time in 10 years.
Rachmaninov's Piano Concerto No.2 has topped the Classic FM Hall of Fame for the first time in 10 years, in the year that marks 150 years since the composer was born.
A long-time favourite in the world's biggest survey of classical music tastes, the monumental work has reached the No.1 spot eight times since the chart began in 1996.
In recent years it has lost out to Vaughan Williams' enduringly popular The Lark Ascending, which has enjoyed four consecutive years in the top spot before being knocked off in 2023.
The new chart, which was revealed live across the four-day Easter weekend on Classic FM, also sees a record number of film music entries with 35 soundtracks voted in.
Rachmaninov finished writing his second piano concerto in 1901, as he emerged from a period of particularly troubling mental health. He dedicated the piece to the neurologist Nikolai Dahl as thanks for his treatment and support throughout his illness.
The piece was premiered in November of that year to great acclaim, and remains a firm favourite more than a century later. It featured prominently in the soundtrack of the 1945 romantic drama, Brief Encounter, and provided Eric Carmen with the inspiration for his hit pop power ballad, 'All by Myself', in 1975.
The tune cemented its popularity in 1996, when Canadian vocal powerhouse Celine Dion famously released her cover – and further still, when it was featured to great comedic effect in the 2001 film Bridget Jones' Diary.
Read more: Why 'All By Myself' sounds uncannily like Rachmaninov's Piano Concerto No.2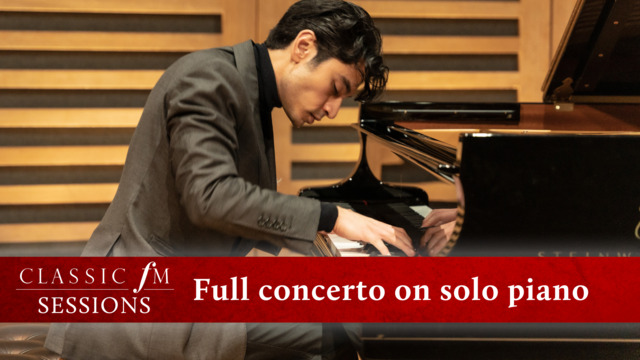 Rachmaninov Piano Concerto No. 2… for solo piano! | Arsha Kaviani
2023 sees a record number of movie scores in the Classic FM Hall of Fame, with 35 soundtracks making it into the chart – compared with just two soundtracks in the first ever chart, 27 years ago.
It's a brilliant year for the music of late Italian maestro Ennio Morricone, who has more entries to the chart than ever before including his score to The Good, The Bad and The Ugly which has been voted in for the first time ever, at No.64.
John Williams also wins out in the 2023 chart, as Schindler's List reaches its highest ever position at No.10. Williams is also the most popular living composer with a total of eight soundtracks in this year's Top 300.
Read more: Listen to Classic FM's exclusive 90th-birthday interview with film music legend John Williams
Karl Jenkins' mass choral work, The Armed Man, charts at No.5, making him the highest-ranking living composer in this year's poll.
The 2023 chart also reveals growing popularity for women composers, as 10 pieces written by seven different composers appear in the Top 300 – both record highs in the Classic FM Hall of Fame. Clara Schumann has placed higher than her husband for the first time, as her Piano Concerto places at No.153, and Robert Schumann's at No.186.
2023's chart welcomes in 12 new entries, including Rachel Portman's score for Emma at No.236 and Florence Price's Symphony No.1 at No.282 – debut appearances in the chart for both composers. Plus, there are re-entries for Phamie Gow with 'War Song', and Yoko Shimomura's music for the video game Final Fantasy XV.
Elsewhere in the chart, Mozart has been voted as the nation's most popular composer once again, with 15 entries, followed by Beethoven, Bach, and Tchaikovsky with 11 each.
There are also two re-entries for Liszt, who didn't feature at all in last year's countdown, plus a chart debut for Max Richter, with On the Nature of Daylight. American composer Christopher Tin also makes his debut, with three new entries including the highest-ranking video game score with Civilization.
Stravinsky's The Rite of Spring returns to the chart in style this year as the highest re-entry, having missed out for the first time ever in 2022. Plus, there's also a brand new entry from Matthew Coleridge, whose Requiem was featured as Alexander Armstrong's Album of the Week in March and now sits comfortably at No.86.
To all the composers featuring for the first time in this year's chart – congratulations, and welcome to the Classic FM Hall of Fame 2023!
Listen to the Classic FM Hall of Fame again via Catch-Up on Global Player – plus, listen from 9–10pm on Monday 10 April for a highlights programme with Alexander Armstrong.