The Story Of Carl Orff's Carmina Burana
17 July 2018, 13:39 | Updated: 17 July 2018, 13:42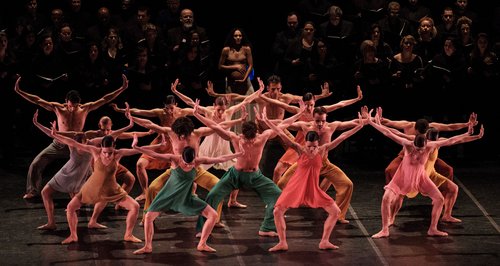 Carl Orff's Carmina Burana is probably the most frequently performed choral work of the 21st century, made popular by the memorable surfing advert for Old Spice aftershave. But have you ever wondered where its familiar title comes from?
The name has Latin roots – 'Carmina' means 'songs', while 'Burana' is the Latinised form of Beuren, the name of the Benedictine monastery of Benediktbeuren in Bavaria.
So, Carmina Burana translates as Songs Of Beuren, and refers to a collection of early 13th-century songs and poems that was discovered in Beuren in 1803 – although it has since been established that the collection originated from Seckau Abbey, Austria – and is now housed in the Bavarian State Library.
What are the lyrics to 'O Fortuna' from Carmina Burana?
The songs (over 1000 of them) were written in a mix of Latin, German and medieval French by the Goliards, a band of poet-musicians comprising scholars and clerical students, who celebrated with earthy humour the joys of the tavern, nature, love and lust. Although Orff set the original texts, he chose not to use the primitive musical notation that accompanied some of the songs.
The collection was first published in Germany in 1847, but it wasn't until 1934 that Orff came across the texts; a selection had been translated into English and formed part of a publication called Wine, Women And Song.
With the help of Michael Hofmann, a law student and Latin scholar, Orff chose 24 songs and set them to music in what he termed a "scenic cantata".
Carmina Burana is divided into three sections – Springtime, In the Tavern and The Court Of Love – preceded by and ending with an invocation to Fortune. Written between 1935 and 1936 for soloists, choruses and orchestra, it was originally conceived as a choreographed stage work.
It was in this form that it was first heard on June 8, 1937, in Frankfurt, under its full title Carmina Burana: Cantiones Profanae Cantoribus Et Choris Cantandae Comitantibus Instrumentis Atque Imaginibus Magicis (Songs Of Beuren: Secular Songs For Singers And Choruses To Be Sung Together With Instruments And Magic Images).
After the triumphant premiere of Carmina Burana, Orff, then 41, wrote to his publishers: "Everything I have written to date, and which you have, unfortunately, published, can be destroyed. With Carmina Burana my collected works begin." However, nothing Orff subsequently wrote ever came close to approaching the popularity of Carmina Burana.
Hear it on
Deutsche Opera Chorus & Orchestra/Jochum
Although there are many good modern alternatives, the classic account that triumphantly stands the test of time was recorded in the presence of the composer in 1968, and features soloists Gundula Janowitz, Dietrich Fischer-Dieskau and Gerhard Stolze (DG 447 4372).
Did you know?
Orff's masterpiece greatly appealed to the Nazi regime, to whom its rhythms, as one critic put it, were reminiscent of the "stamping columns of the Third Reich". When Carmina Burana was first performed at La Scala, in 1942, it was as a showpiece for fascist values.