Karl Jenkins confirms he is 'not Meghan Markle in disguise' after coronation confusion
10 May 2023, 17:34 | Updated: 11 May 2023, 10:10
Welsh composer Karl Jenkins sparked major intrigue and debate over his identity at the coronation, and has now taken to social media to clear his name.
More than 20 million Britons tuned in to watch the coronation of King Charles III on 6 May, and amidst all the pomp, circumstance and ceremony, one man in particular stole the show.
Sir Karl Jenkins, Welsh composer and former jazz-rocker, created a maelstrom of confusion on social media as fascinated Twitter users hurried to identify the 'mystery man'.
The 'Adiemus' composer has since taken to social media himself to dispel any rumours and mistaken identities (notably around being a 'disguised' Meghan Markle). But where did the confusion begin?
Read more: Bryn Terfel almost missed historic coronation performance after police stop
Sporting his iconic handlebar moustache and tinted specs, many bemused Twitter users were desperate to identify the mystery figure they spotted sitting next to fellow composer Andrew Lloyd Webber at the Westminster Abbey ceremony.
As with any Internet rumour mill, conspiracy theories began to swirl.
All of a sudden, Jenkins found himself unwittingly suspected of being a member of hip-hop group Beastie Boys, a potential crown jewel thief, and the star of an upcoming Netflix series.
Further rumours abounded, with Jenkins also being accused of wearing a disguise.
Users couldn't quite agree who was behind the alleged illusion, with suggestions ranging from Donald Trump, Elvis Presley, and Declan Donnelly of Ant and Dec fame, to a 20-year-old climate protester, comedian Larry David, and even Meghan Markle.
Read more: Andrea Bocelli and Sir Bryn Terfel perform emotional 'You'll Never Walk Alone' at Coronation Concert
"I was quite surprised some people thought I was Meghan Markle in disguise," Sir Karl Jenkins said in a video posted to social media. "I was there because I'd written some music for the service."
Andrew Lloyd Webber, who sat beside Jenkins having also contributed music for the coronation, later confirmed on social media that his fellow composer 'probably wasn't [Meghan Markle]'.
"I look this way all the time!" Jenkins laughed, before proudly displaying the medal he was awarded when he was knighted in the Queen's birthday honours in 2015, and which he also wore at Saturday's coronation.
Jenkins also pointed out that he has been sporting his handlebar moustache since he was 18: "It was very trendy then".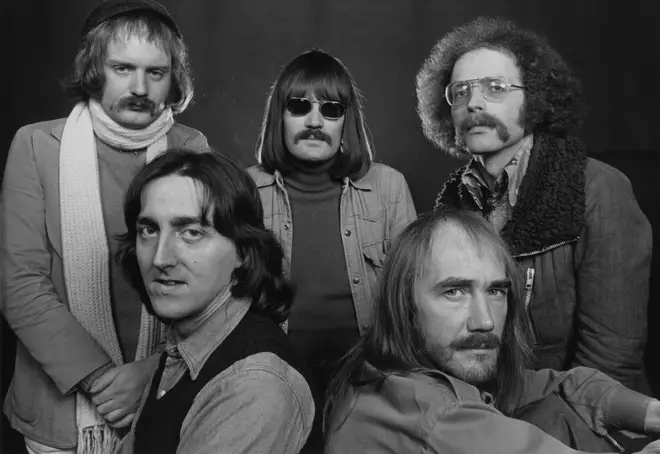 Karl Jenkins began his career as a jazz and jazz-rock musician, playing saxophone, oboe and keyboard in a variety of groups – most notably, in Soft Machine from 1972 to 1984.
As a composer, Jenkins is well-known for pieces including Palladio, The Armed Man: A Mass for Peace, and Adiemus: Songs of Sanctuary, all of which are firm favourites in the annual Classic FM Hall of Fame.