This wonderful orchestra proves how classical music can adopt the Social Model of Disability
22 October 2019, 13:18
Bournemouth Symphony Orchestra is championing the Social Model of Disability and leading the way in giving disabled musicians access to professional careers in music. Here's everything you need to know...
Orchestras and orchestral traditions are wonderful for a myriad of reasons – honestly too many to list.
From the sensational roles conductors and musicians play in holding an orchestra together as one cohesive and affecting unit, to the chance orchestras give audiences to hear the very best combinations of instrumental sounds Western music has to offer, they're truly marvellous.
But when it comes to inclusion for people with disabilities, orchestras on the whole can appear to fall behind other organisations in terms of providing a way in.
Particularly when it comes to the Social Model of Disability – that is, the realisation that people are disabled by barriers in society, not by their impairment or difference – more can surely be done to ensure people with hearing impairments, physical differences and visual disabilities have access to professional music-making.
Read more: Our jobs are similar to those of athletes, says conductor Marta Gardolińska >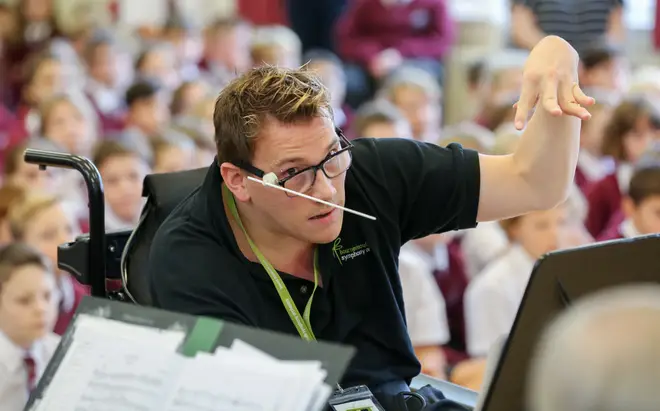 Turns out, a fair bit can be done to ensure wider inclusion in music, and one orchestra doing just that is Classic FM's Orchestra in the South of England, Bournemouth Symphony Orchestra (BSO).
Last year, the orchestra launched BSO Resound, a disabled-led ensemble that works alongside the symphony Orchestra.
What is BSO Resound?
Conducted by James Rose who lives with cerebral palsy, BSO Resound (see video above) was founded in 2018 as the world's first professional ensemble led by disabled musicians attached to a professional orchestra.
The ensemble consists of six musicians: violinist and violist Siobhan Clough, percussionist Philip Howells, cellist Roger Preston, flautist Kate Risdon, clarinettist Matthew Scott and Charlotte Bott on LinnStrument.
Resound has made many high-profile appearances since being set up, and has recently released a set of business recommendations with the hope they can be understood and implemented by other orchestras, music organisations and businesses to champion the Social Model of Disability.
The ensemble's six musicians auditioned in November 2017 and they regularly perform in SEND schools with the hope of inspiring a new generation of disabled children. One pupil said, "I didn't know people like me could do things like that for a job. It makes me think I could do anything I want in the future" after hearing their performance.
Resound most recently performed at two BSO Relaxed Concerts over the summer and this month was nominated for both the Ensemble and Impact awards in this year's Royal Philharmonic Society Awards.
Next month, Resound will perform the world premiere of English composer Alexander Campkin's new work, trembling, hoping, lingering, flying on Thursday 7 November in Poole.
Read more: Meet BSO Resound, the ensemble of disabled musicians changing the classical music world >
Why was BSO Resound founded?
BSO Resound was founded as part of Bournemouth Symphony's Change Makers programme, which champions the Social Model of Disability.
"Before I started with the BSO it was quite difficult to find a pathway into conducting because the way I conduct is so different to way anyone has done it," Resound's conductor, James Rose explains.
"I came up with the idea of conducting with my head when I was really little. But never really took it seriously until after the Olympics in London which was when I started really exploring the idea.
"When I started with the BSO it was a learning curve because it is one thing practicing on your own in your room to a recording, but, it's a completely different thing when you're in a rehearsal room full of amazing musicians, and also listening to your ideas – I've had to really question how I communicate in that context."
Resound was founded to give James a platform for his conducting and an opportunity to develop his skill.
"The Change Makers programme gave me a very solid foundation of training and musicianship and an amazing opportunity to work with so many fantastic people who are so committed to what they do," he says, "I think it's safe to say that we've not done anything by half!"
Read more: André Rieu replaces instruments stolen from disabled musicians: 'My heart broke' >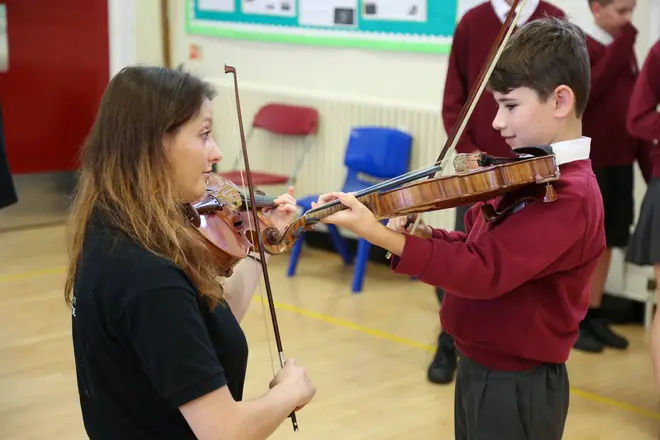 What is the Social Model of Disability?
"The Social Model of Disability differs from the traditional medical model, which looks at what is 'wrong' with the person, not what the person needs," explains Lisa Tregale, head of BSO Participate which facilitates BSO Change Makers and Resound.
"The Social Model of Disability proposes that what makes a person disabled is not their impairment but the attitude and structures of society."
Lisa gives the example of a wheelchair-using musician being unable to get to a performance on the first floor because the lack of a lift: that musician is not disabled by their impairment, but rather by the flight of stairs inhibiting them, according to the Social Model of Disability.
Read more: There's a new Irish orchestra for disabled children – and it's truly inspirational >
Through championing the Social Model of Disability, Resound has ensured that disabled musicians are given a platform. By July, BSO reported that as a result of the Resound project, it has seen a 20 per cent increase in disabled visitors within its audiences during the last year.
In its Change Makers report, BSO has highlighted five key principles other ensembles, organisations and businesses can take away from its work with Resound and related research around the impact of implementing the Social Model of Disability:
• The social model of disability is essential
• Everyone should be involved
• Senior leaders and trustees have to drive the change
• The highest artistic standards and quality are expected and maintained
• Opportunities for disabled people are created within every aspect of an organisation's work
"Putting inclusion at the heart of the orchestra has been transformative," BSO's CEO Dougie Scarfe says. "It has changed the way we look at our company, our art, our audience and our role in the world."
Speaking to Classic FM last year, James Rose explained: "For a while people thought I was a bit crazy and they would often raise their eyebrows when I told them I was a conductor, but slowly I managed to find people who were interested in supporting me.
"BSO Resound has literally started my conducting career, it has given me the exposure I need to show people what I can do."
BSO Resound has been nominated for both the Ensemble Awards and the Impact Award at this year's RPS Awards, which will be announced on Thursday 28 November 2019.
The ensemble will premiere Alexander Campkin's new work, 'trembling, hoping, lingering, flying' on Thursday 7 November in Poole. Visit bsolive.com to find out more.