A Minute with Katie Breathwick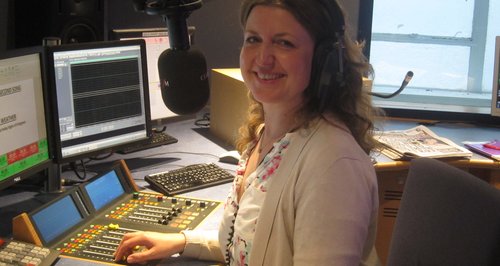 Katie Breathwick keeps you company in the early hours of the morning. She'll probably be eating chocolate.
If you could sit down and have a coffee with one great composer, who would it be?
The choral composer, Judith Bingham. She wrote a gorgeous piece for the reinterment of Richard III, which was sung at Leicester Cathedral where I was once a choirgirl. She rootled through all kinds of olds bits and pieces of medieval writings to find the right thing. I'd love to a have a cuppa with her and talk about what that felt like - reaching back through the ages.

Favourite ever interviewee or guest?
If we're talking music, then my favourite interviewee has to be Yundi, because he makes my heart sing when he plays. Otherwise, it would have to be Richard Attenborough, who I interviewed as a rookie reporter when I was 24. Such a charming and kind man. He greeted everyone he met with warmth and generosity.
If you could be a musical instrument, which would you be?
So I just asked my husband: he says I'd be one of those cinema organs that comes up through the floor.
Most embarrassing on-air moment?
Seriously? I'm not putting that down in writing… My colleagues will be full of stories though...
Who would be your four perfect dinner party guests?
Firstly, someone who could cook, so perhaps Tom Kerridge. Someone who'd make me laugh: Dawn French. Someone with some stories to tell: the first female MP, Lady Astor; and Boris Becker, who I've had a crush on since I was 13. Yup. I'd definitely go to that dinner party.

First pet?
A moggy called Rochdale. Guess which football team my brother supported?

What's your guilty pleasure?
Ha! Too numerous to mention. Barry Manilow? Dolly Parton? Tap dancing? I'll stop.

Most memorable concert you attended?
The twelve cellists of the Berlin Philharmonic did a children's concert at the Royal Festival Hall a few years back. It was a cracker. Proved, too, that classical music doesn't have to be stuffy and distant.

What's your favourite way to relax?
Hanging out with my family. There are no better people in the whole world.

Which superpower would you like to have?
To be in two places at once.

What's your favourite snack when you're feeling a bit peckish in the Classic FM studio?
Chocolate. The last thing a radio presenter should ever eat on air. But I am an ADDICT.

What ambition are you still to fulfill?
I always wanted to learn to play the harp. A few years ago I got in touch with a teacher, and nearly started having lessons. Then I looked at the price of an instrument. Gulp.

All-time favourite piece of music?
O Vos Omnes by Pablo Casals. Introduced to me when I sang for a short while with the choir at St Alfege in Greenwich. It's wonderful.

All-time favourite book?
Persuasion by Jane Austen

All-time favourite film?
When Harry Met Sally