Classic FM Chart: Six new entries mix things up
12 May 2019, 18:55 | Updated: 13 May 2019, 09:44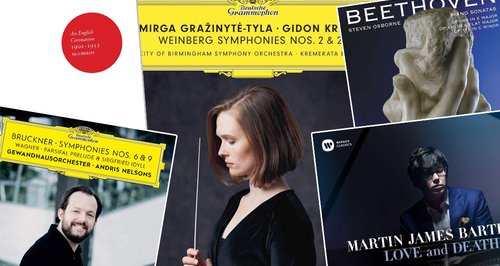 The top 5 remain unchanged this week, but six new entries enter the Classic FM chart.
The top five (even six) chart entries remain unchanged this week, with Jess Gillam's debut album Rise staying the favourite at No. 1, Andrea Bocelli's Sì at No. 2 and Einaudi's first album in his seven-album journey Seven Days Walking – Day One at No. 3.
Six new entries make it on to the chart, including solo piano albums, choral work, and some unusual symphonies. Highlights among the new additions are young pianist Martin James Bartlett's debut album Love and Death at No. 29 and Weinberg: Symphony Nos. 2 & 21 played by the City of Birmingham Symphony Orchestra under the Mirga Gražinytė-Tyla's baton.
This
Week
Last
Week
Title & Artist
1
1
RISE, JESS GILLAM


Download from iTunes

-

Buy from Amazon

2
2
SI, ANDREA BOCELLI


Download from iTunes

-

Buy from Amazon

3
3
SEVEN DAYS WALKING - DAY ONE, LUDOVICO EINAUDI


Download from iTunes

-

Buy from Amazon

4
4
ISLANDS - ESSENTIAL EINAUDI, LUDOVICO EINAUDI


Download from iTunes

-

Buy from Amazon

5
5
GUIDING LIGHT, KATHERINE JENKINS


Download from iTunes

-

Buy from Amazon

6
6
SEVEN DAYS WALKING - DAY TWO, LUDOVICO EINAUDI


Download from iTunes

-

Buy from Amazon

7
9
GAME OF THRONES - SEASON 6 - OST, RAMIN DJAWADI


Download from iTunes

-

Buy from Amazon

8
NEW
AN ENGLISH CORONATION - 1902-1953, GABRIELI/PAUL MCCREESH


Download from iTunes

-

Buy from Amazon

9
8
ROMANTIC MOMENTS II, ANDRE RIEU & JOHANN STRAUSS OR


Download from iTunes

-

Buy from Amazon

10
11
GAME OF THRONES - SEASON 7 - OST, RAMIN DJAWADI


Download from iTunes

-

Buy from Amazon

11
NEW
BEETHOVEN/PIANO SONATAS, STEVEN OSBORNE


Download from iTunes

-

Buy from Amazon

12
7
PIANO BOOK, LANG LANG


Download from iTunes

-

Buy from Amazon

13
10
AVENGERS - INFINITY WAR - OST, ALAN SILVESTRI


Download from iTunes

-

Buy from Amazon

14
13
THE LITTLE MERMAID - OST, ALAN MENKEN


Download from iTunes

-

Buy from Amazon

15
12
JOHANN SEBASTIAN BACH, VIKINGUR OLAFSSON


Download from iTunes

-

Buy from Amazon

16
17
IN A TIME LAPSE, LUDOVICO EINAUDI


Download from iTunes

-

Buy from Amazon

17
NEW
WEINBERG/SYMPHONIES NOS. 2 & 21, KREMER/CBSO/KREMERATA BALTICA


Download from iTunes

-

Buy from Amazon

18
15
THE LORD OF THE RINGS - TRILOGY - OST, HOWARD SHORE
19
14
SLEEP, MAX RICHTER


Download from iTunes

-

Buy from Amazon

20
20
THE LORD OF THE RINGS - OST, HOWARD SHORE
21
18
THE 50 GREATEST PIECES OF CLASSICAL, LPO/PARRY


Download from iTunes

-

Buy from Amazon

22
16
GORECKI/SYMPHONY NO 3, GIBBONS/POLISH NRSO/PENDERECKI


Download from iTunes

-

Buy from Amazon

23
21
ELEMENTS, LUDOVICO EINAUDI


Download from iTunes

-

Buy from Amazon

24
NEW
BRUCKNER/WAGNER/SYM NOS 6 & 9/SIEGFRIED, GEWANDHAUSOR LEIPZIG/NELSONS


Download from iTunes

-

Buy from Amazon

25
25
UNA MATTINA, LUDOVICO EINAUDI


Download from iTunes

-

Buy from Amazon

26
23
THE BLUE NOTEBOOKS, MAX RICHTER


Download from iTunes

-

Buy from Amazon

27
22
GLADIATOR - OST, HANS ZIMMER & LISA GERRARD


Download from iTunes

-

Buy from Amazon

28
28
DIVENIRE, LUDOVICO EINAUDI


Download from iTunes

-

Buy from Amazon

29
NEW
LOVE AND DEATH, MARTIN JAMES BARTLETT


Download from iTunes

-

Buy from Amazon

30
NEW
CHORAL MUSIC, WESTMINSTER ABBEY CH/HOLDER


Download from iTunes

-

Buy from Amazon