Classic FM Chart: A brand new No. 1 knocks Jess Gillam from the top spot
19 May 2019, 18:55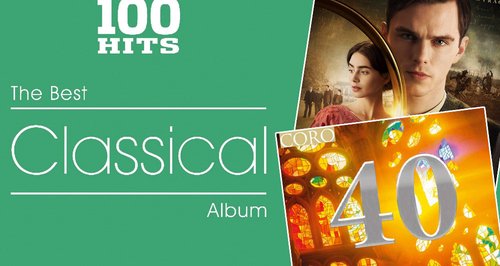 A new album of classical favourites, 100 Hits – The Best Classical Album, has nudged Jess Gillam from the No. 1 spot in this week's chart.
Saxophonist Jess Gillam only enjoyed one week at No. 1 on the Classic FM Chart, as a new entry, 100 Hits – The Best Classical Album, has entered at No. 1. Einaudi's long-time favourite album Islands has jumped back up to No. 2, while Katherine Jenkins moves up two places to No. 3 with her album Guiding Light.
Three other new entries make it on to the chart: The Sixteen's anniversary album 40 – The Anniversary Collection at No. 10, Titan – a recording of Mahler's work conducted by François-Xavier Roth at No. 17, and the soundtrack to the critically acclaimed film Tolkien by Thomas Newman at No. 30.
Two albums re-enter at Nos. 16 and 23, Schubert: Sonatas & Impromptus by Andras Schiff, and Evolution by Alexis Ffrench respectively.
This
Week
Last
Week
Title & Artist
1
NEW
100 HITS - THE BEST CLASSICAL ALBUM, VARIOUS ARTISTS


Buy from Amazon

2
4
ISLANDS - ESSENTIAL EINAUDI, LUDOVICO EINAUDI


Download from iTunes

-

Buy from Amazon

3
5
GUIDING LIGHT, KATHERINE JENKINS


Download from iTunes

-

Buy from Amazon

4
3
SEVEN DAYS WALKING - DAY ONE, LUDOVICO EINAUDI


Download from iTunes

-

Buy from Amazon

5
2
SI, ANDREA BOCELLI


Download from iTunes

-

Buy from Amazon

6
1
RISE, JESS GILLAM


Download from iTunes

-

Buy from Amazon

7
6
SEVEN DAYS WALKING - DAY TWO, LUDOVICO EINAUDI


Download from iTunes

-

Buy from Amazon

8
9
ROMANTIC MOMENTS II, ANDRE RIEU & JOHANN STRAUSS OR


Download from iTunes

-

Buy from Amazon

9
7
GAME OF THRONES - SEASON 6 - OST, RAMIN DJAWADI


Download from iTunes

-

Buy from Amazon

10
NEW
40 - THE ANNIVERSARY COLLECTION, SIXTEEN/CHRISTOPHERS


Download from iTunes

-

Buy from Amazon

11
10
GAME OF THRONES - SEASON 7 - OST, RAMIN DJAWADI


Download from iTunes

-

Buy from Amazon

12
14
THE LITTLE MERMAID - OST, ALAN MENKEN


Download from iTunes

-

Buy from Amazon

13
12
PIANO BOOK, LANG LANG


Download from iTunes

-

Buy from Amazon

14
16
IN A TIME LAPSE, LUDOVICO EINAUDI


Download from iTunes

-

Buy from Amazon

15
18
THE LORD OF THE RINGS - TRILOGY - OST, HOWARD SHORE
16
RE
SCHUBERT/SONATAS & IMPROMPTUS, ANDRAS SCHIFF


Download from iTunes

-

Buy from Amazon

17
NEW
MAHLER/TITAN - EINE TONDICHTUNG IN, LES SIECLES/ROTH


Download from iTunes

-

Buy from Amazon

18
15
JOHANN SEBASTIAN BACH, VIKINGUR OLAFSSON


Download from iTunes

-

Buy from Amazon

19
19
SLEEP, MAX RICHTER


Download from iTunes

-

Buy from Amazon

20
21
THE 50 GREATEST PIECES OF CLASSICAL, LPO/PARRY


Download from iTunes

-

Buy from Amazon

21
13
AVENGERS - INFINITY WAR - OST, ALAN SILVESTRI


Download from iTunes

-

Buy from Amazon

22
23
ELEMENTS, LUDOVICO EINAUDI


Download from iTunes

-

Buy from Amazon

23
RE
EVOLUTION, ALEXIS FFRENCH


Download from iTunes

-

Buy from Amazon

24
20
THE LORD OF THE RINGS - OST, HOWARD SHORE
25
25
UNA MATTINA, LUDOVICO EINAUDI


Download from iTunes

-

Buy from Amazon

26
27
GLADIATOR - OST, HANS ZIMMER & LISA GERRARD


Download from iTunes

-

Buy from Amazon

27
28
DIVENIRE, LUDOVICO EINAUDI


Download from iTunes

-

Buy from Amazon

28
RE
JS BACH/CELLO SUITES, RACHEL PODGER


Download from iTunes

-

Buy from Amazon

29
26
THE BLUE NOTEBOOKS, MAX RICHTER


Download from iTunes

-

Buy from Amazon

30
NEW
TOLKIEN - OST, THOMAS NEWMAN


Download from iTunes

- Buy from Amazon