Classic FM Chart: Jubilate: 500 Years of Cathedral Music spends it's third week at no. 1
9 April 2017, 18:55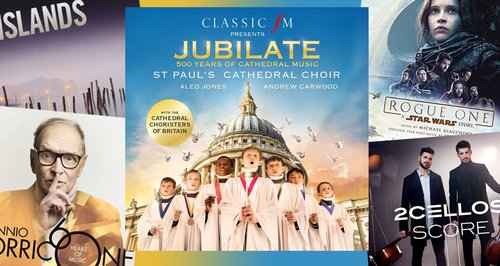 9th April 2017: 'Jubilate: 500 Years Of Cathedral Music' by St Pauls Cathedral Choir and Guests is at no. 1 for the third week in a row after entering straight into the top spot two weeks ago
Jubilate: 500 Years of Cathedral Music is at no. 1 for the third week in a row since it entered the Classic FM Chart. Einaudi's Islands steps back up to no. 2, whereas last week's no. 2 from Alfie Boe is no longer in the chart. A highlight of the top 10 is Morricone at 60, which has climbed up 9 places from no. 13 to no. 4. There is also a re-entry for Classical: The Collection and a new entry from Alina Ibragimova and Cedric Tiberghien playing Mozart.
The other highest climber in the chart equals Ennio Morricone's 9 places - the soundtrack from The Little Mermaid climbs from no. 24 to no. 15. The 1989 film is surrounded by several other film scores, including Gladiator, Lord of the Rings, a re-entry from Fantastic Beasts and Where to Find Them, and not far behind is the soundtrack to award-winning television series, Game of Thrones. The biggest faller this week is Max Richter's Sleep, which drops from no. 8 to no. 23.
Other new entries in the chart include the new release from Marc-André Hamelin playing Medtner and Rachmaninov piano concertos which enters the chart at no. 16, the Nash Ensemble playing Bruch's string quartets at no. 21 and Music For The 100 Years' War: A Brief History In Music & Alabaster at no. 24. The final four albums in the Classic FM Chart this week are all re-entries - including Star Wars: The Force Awakens, The Lost Songs of St Kilda, Karl Jenkin's The Armed Man: A Mass for Peace and Dustin O'Halloran's soundtrack for Lion.
This
Week
Last
Week
Title & Artist
1
1
CLASSIC FM PTS JUBILATE - 500 YEARS OF, JONES/ST PAUL'S CH/CARWOOD


Buy from Amazon

-

Download from iTunes

2
4
ISLANDS - ESSENTIAL EINAUDI, LUDOVICO EINAUDI


Buy from Amazon

-

Download from iTunes

3
6
ROGUE ONE - A STAR WARS STORY - OST, MICHAEL GIACCHINO


Buy from Amazon

-

Download from iTunes

4
13
MORRICONE 60, ENNIO MORRICONE


Buy from Amazon

-

Download from iTunes

5
3
GOK'S DIVAS, VARIOUS ARTISTS


Buy from Amazon

-

Download from iTunes

6
5
SCORE, 2CELLOS


Buy from Amazon

-

Download from iTunes

7
RE
CLASSICAL - THE COLLECTION, VARIOUS ARTISTS


Buy from Amazon

-

Download from iTunes

8
7
THE 50 GREATEST PIECES OF CLASSICAL MUSIC, LPO/PARRY


Buy from Amazon

-

Download from iTunes

9
NEW
MOZART/VIOLIN SONATAS, IBRAGIMOVA/TIBERGHIEN


Buy from Amazon

-

Download from iTunes

10
9
THREE WORLDS - MUSIC FROM WOOLF WORKS, MAX RICHTER


Buy from Amazon

-

Download from iTunes

11
10
ELEMENTS, LUDOVICO EINAUDI


Buy from Amazon

-

Download from iTunes

12
17
GLADIATOR - OST, HANS ZIMMER & LISA GERRARD


Buy from Amazon

-

Download from iTunes

13
18
THE LORD OF THE RINGS - TRILOGY - OST, HOWARD SHORE


Buy from Amazon

-

Download from iTunes

14
RE
FANTASTIC BEASTS AND WHERE TO FIND THEM, JAMES NEWTON HOWARD


Buy from Amazon

-

Download from iTunes

15
24
THE LITTLE MERMAID - OST, ALAN MENKEN


Buy from Amazon

-

Download from iTunes

16
NEW
MEDTNER/RACHMANINOV/PIANO CONCERTO, HAMELIN/LPO/JUROWSKI


Buy from Amazon

-

Download from iTunes

17
21
IN A TIME LAPSE, LUDOVICO EINAUDI


Buy from Amazon

-

Download from iTunes

18
27
GAME OF THRONES - SEASON 6 - OST, RAMIN DJAWADI


Buy from Amazon

-

Download from iTunes

19
19
ISLAND SONGS, OLAFUR ARNALDS


Buy from Amazon

-

Download from iTunes

20
20
THE BLUE NOTEBOOKS, MAX RICHTER


Buy from Amazon

-

Download from iTunes

21
NEW
BRUCH/STRING OCTET/STRING QUINTETS, NASH ENSEMBLE


Buy from Amazon

-

Download from iTunes

22
26
THE LORD OF THE RINGS - OST, HOWARD SHORE


Buy from Amazon

-

Download from iTunes

23
15
SLEEP, MAX RICHTER


Buy from Amazon

-

Download from iTunes

24
NEW
MUSIC FOR THE 100 YEARS' WAR, BINCHOIS CONSORT/KIRKMAN


Buy from Amazon

-

Download from iTunes

25
29
DIVENIRE, LUDOVICO EINAUDI


Buy from Amazon

-

Download from iTunes

26
RE
STAR WARS - THE FORCE AWAKENS - OST, JOHN WILLIAMS


Buy from Amazon

-

Download from iTunes

27
RE
THE LOST SONGS OF ST KILDA, MORRISON/SFO/MACMILLAN


Buy from Amazon

-

Download from iTunes

28
RE
THE ARMED MAN - A MASS FOR PEACE, KARL JENKINS


Buy from Amazon

-

Download from iTunes

29
RE
LION - OST, DUSTIN O'HALLORAN & HAUSCHKA


Buy from Amazon

-

Download from iTunes

30
RE
BACH/ST MATTHEW PASSION, GILCHRIST/LOGES/MONTEVERDI CH


Buy from Amazon

-

Download from iTunes