Classic FM Chart: Film soundtracks take over
7 July 2019, 18:55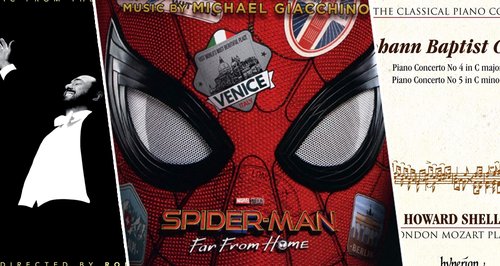 11 of this week's chart entries are occupied by film and TV music, but '100 Hits – The Best Classical Album' makes it to No. 1.
The compilation album 100 Hits – The Best Classical Album jumps up to No. 1 this week, up three places from last week's chart. Staying put at No. 2 is Einaudi's popular album Islands, and Andrea Bocelli's latest album Sì stays at No. 3 for a second week.
Three new entries are scattered across the chart; The official soundtrack to the new Marvel film Spider-Man – Far From Home by Michael Giacchino enters at No. 7, Sibelius' Kullervo recorded by the BBC Scottish Symphony Orchestra at No. 13 and Cramer: Piano Concertos Nos. 4 & 5 recorded by Howard Shelley and London Mozart Players in at No. 20.
Lower down on the chart, three albums re-enter this week. The first is the official soundtrack to the Pavarotti film, out next week, including all of his best-loved performances, the soundtrack to Godzilla – King of the Monsters by Bear McCreary at No. 28 and finally Score by 2Cellos at No. 30.
This
Week
Last
Week
Title & Artist
1
4
100 HITS - THE BEST CLASSICAL ALBUM, VARIOUS ARTISTS


Buy from Amazon

2
2
ISLANDS - ESSENTIAL EINAUDI, LUDOVICO EINAUDI


Download from iTunes

-

Buy from Amazon

3
3
SI, ANDREA BOCELLI


Download from iTunes

-

Buy from Amazon

4
7
THE LITTLE MERMAID - OST, ALAN MENKEN


Download from iTunes

-

Buy from Amazon

5
5
SEVEN DAYS WALKING - DAY ONE, LUDOVICO EINAUDI


Download from iTunes

-

Buy from Amazon

6
8
AVENGERS - ENDGAME - OST, ALAN SILVESTRI


Download from iTunes

-

Buy from Amazon

7
NEW
SPIDER-MAN - FAR FROM HOME - OST, MICHAEL GIACCHINO


Download from iTunes

-

Buy from Amazon

8
11
SLEEP, MAX RICHTER


Download from iTunes

-

Buy from Amazon

9
6
TOY STORY 4 - OST, RANDY NEWMAN


Download from iTunes

-

Buy from Amazon

10
14
THE LORD OF THE RINGS - TRILOGY - OST, HOWARD SHORE
11
1
SEVEN DAYS WALKING - DAY FOUR, LUDOVICO EINAUDI


Download from iTunes

-

Buy from Amazon

12
10
GAME OF THRONES - SEASON 8 - OST, RAMIN DJAWADI


Download from iTunes

-

Buy from Amazon

13
NEW
SIBELIUS/KULLERVO, APPL/BBC SSO/LUND MALE CHORUS
14
13
PIANO BOOK, LANG LANG


Download from iTunes

-

Buy from Amazon

15
17
THE BLUE NOTEBOOKS, MAX RICHTER


Download from iTunes

-

Buy from Amazon

16
19
GLADIATOR - OST, HANS ZIMMER & LISA GERRARD


Download from iTunes

-

Buy from Amazon

17
9
RISE, JESS GILLAM


Download from iTunes

-

Buy from Amazon

18
16
THE 50 GREATEST PIECES OF CLASSICAL, LPO/PARRY


Download from iTunes

-

Buy from Amazon

19
12
IN A TIME LAPSE, LUDOVICO EINAUDI


Download from iTunes

-

Buy from Amazon

20
NEW
CRAMER/PIANO CONCERTO 6, LONDON MOZART PLAYERS


Download from iTunes

-

Buy from Amazon

21
RE-ENTRY
PAVAROTTI - OST, LUCIANO PAVAROTTI


Download from iTunes

-

Buy from Amazon

22
18
UNA MATTINA, LUDOVICO EINAUDI


Download from iTunes

-

Buy from Amazon

23
22
EVOLUTION, ALEXIS FFRENCH


Download from iTunes

-

Buy from Amazon

24
21
THE LORD OF THE RINGS - OST, HOWARD SHORE
25
23
DIVENIRE, LUDOVICO EINAUDI


Download from iTunes

-

Buy from Amazon

26
15
THE GREATEST HITS, LUCIANO PAVAROTTI


Download from iTunes

-

Buy from Amazon

27
20
GAME OF THRONES - SEASON 6 - OST, RAMIN DJAWADI


Download from iTunes

-

Buy from Amazon

28
RE-ENTRY
GODZILLA - KING OF THE MONSTERS - OST, BEAR MCCREARY


Download from iTunes

-

Buy from Amazon

29
26
THE WORLD OF - A SYMPHONIC CELEBRATION, HANS ZIMMER


Download from iTunes

-

Buy from Amazon

30
RE-ENTRY
SCORE, 2CELLOS


Download from iTunes

-

Buy from Amazon