Classic FM Chart: Aled Jones storms to no.1 with One Voice at Christmas
4 December 2016, 18:55 | Updated: 19 December 2016, 16:24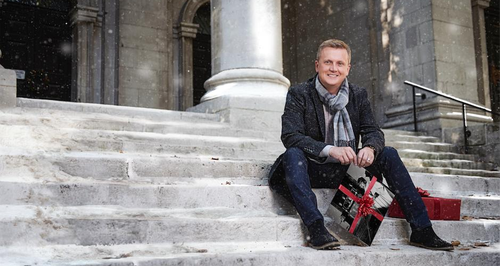 December 4th 2016: Aled Jones's festive follow up to his innovative no.1 earlier this year takes the top spot.
Aled Jones is back at no.1 for the second time this year with One Voice at Christmas, the seasonal follow-up to One Voice, in which he duets with his younger self from recordings made back in the 1980s when he first shot to fame as a choirboy.
Military Wives Choirs take the second spot with another festive offering, Home for Christmas.
This
Week
Last
Week
Title & Artist
1
NEW
ONE VOICE AT CHRISTMAS, ALED JONES


Buy from Amazon

-

Download from iTunes

2
NEW
HOME FOR CHRISTMAS, MILITARY WIVES CHOIRS


Buy from Amazon

-

Download from iTunes

3
2
THE CLASSICAL ALBUM, VARIOUS ARTISTS


Buy from Amazon

-

Download from iTunes

4
1
BILL TURNBULL'S RELAXING CLASSICS, VARIOUS ARTISTS


Buy from Amazon

-

Download from iTunes

5
NEW
BRUNO TONIOLI: AN ITALIAN ROMANCE, VARIOUS ARTISTS


Buy from Amazon

-

Download from iTunes

6
3
A YEAR OF SONGS, ALEXANDER ARMSTRONG


Buy from Amazon

-

Download from iTunes

7
8
ONE VOICE, ALED JONES


Buy from Amazon

-

Download from iTunes

8
18
BEST OF CHRISTMAS, ANDRE RIEU & JOHANN STRAUSS ORCHESTRA


Buy from Amazon

-

Download from iTunes

9
6
DECEMBER LIGHTS, ANDRE RIEU


Buy from Amazon

-

Download from iTunes

10
7
CLASSIC FM - A NIGHT AT THE MOVIES, VARIOUS ARTISTS


Buy from Amazon

-

Download from iTunes

11
10
ISLANDS - ESSENTIAL EINAUDI, LUDOVICO EINAUDI


Buy from Amazon

-

Download from iTunes

12
13
THE LOST SONGS OF ST KILDA, MORRISON/SFO/MACMILLAN


Buy from Amazon

-

Download from iTunes

13
17
CAROLS FROM KING'S COLLEGE CAMBRIDGE, KING'S COLLEGE CHOIR/WILLCOCKS


Buy from Amazon

-

Download from iTunes

14
5
MORRICONE 60, ENNIO MORRICONE


Buy from Amazon

-

Download from iTunes

15
15
CHRISTMAS CLASSICAL VOICES, VARIOUS ARTISTS


Buy from Amazon

-

Download from iTunes

16
12
ALED'S CHRISTMAS GIFT, ALED JONES


Buy from Amazon

-

Download from iTunes

17
14
CINEMA, ANDREA BOCELLI


Buy from Amazon

-

Download from iTunes

18
11
ELEMENTS, LUDOVICO EINAUDI


Buy from Amazon

-

Download from iTunes

19
4
FANTASTIC BEASTS AND WHERE TO FIND THEM, JAMES NEWTON HOWARD


Buy from Amazon

-

Download from iTunes

20
19
MAGIC OF THE WALTZ, ANDRE RIEU


Buy from Amazon

-

Download from iTunes

21
20
STAR WARS - EPISODE 4 - A NEW HOPE - OST, LSO/WILLIAMS


Buy from Amazon

-

Download from iTunes

22
21
CANTATA MEMORIA - FOR THE CHILDREN, KARL JENKINS


Buy from Amazon

-

Download from iTunes

23
RE
ESSENTIAL CAROLS, KING'S COLLEGE CHOIR/WILLCOCKS


Buy from Amazon

-

Download from iTunes

24
9
IN WAR & PEACE, JOYCE DIDONATO


Buy from Amazon

-

Download from iTunes

25
28
STAR WARS - THE FORCE AWAKENS - OST, JOHN WILLIAMS


Buy from Amazon

-

Download from iTunes

26
23
LAST NIGHT OF THE PROMS - THE ULTIMATE COLLECTION, VARIOUS ARTISTS


Buy from Amazon

-

Download from iTunes

27
30
THE MUSICAL ZODIAC, NATIONAL SO/WISEMAN


Buy from Amazon

-

Download from iTunes

28
RE
BELIEVE, JONATHAN ANTOINE


Buy from Amazon

-

Download from iTunes

29
26
CHRISTMAS AT DOWNTON ABBEY, VARIOUS ARTISTS


Buy from Amazon

-

Download from iTunes

30
RE
STAR WARS - EPISODE 5 - THE EMPIRE,


Buy from Amazon

-

Download from iTunes