The Classic FM Chart - Sunday 24 January 2016
24 January 2016, 19:00 | Updated: 19 December 2016, 16:24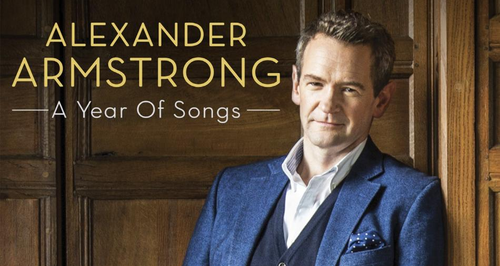 No change at the top of the Classic FM Chart this week - with Alexander Armstrong holding on to the top spot once more.
Alexander Armstrong shows no signs of budging from no.1 in the Classic FM Chart, a position his album, A Year of Songs, has enjoyed since November 2015. Below the Classic FM presenter and comedian, Andrea Bocelli, Andre Rieu and the soundtrack for Star Wars: The Force Awakens hold on to their respective positions from last week.
The highest new entry is another movie soundtrack, The Revenant, by Alva Noto and Ryuichi Sakamoto.
This
Week
Last
Week
Title & Artist
1
1
A YEAR OF SONGS, ALEXANDER ARMSTRONG


Buy from Amazon

-

Download from iTunes

2
2
CINEMA, ANDREA BOCELLI


Buy from Amazon

-

Download from iTunes

3
3
ROMAN HOLIDAY, ANDRE RIEU/JOHANN STRAUSS ORCHESTRA


Buy from Amazon

-

Download from iTunes

4
4
STAR WARS - THE FORCE AWAKENS - OST, JOHN WILLIAMS


Buy from Amazon

-

Download from iTunes

5
6
NOW THAT'S WHAT I CALL CLASSICAL, VARIOUS ARTISTS


Buy from Amazon

-

Download from iTunes

6
NEW
THE REVENANT - OST, ALVA NOTO & RYUICHI SAKAMOTO


Buy from Amazon

-

Download from iTunes

7
10
ELEMENTS, LUDOVICO EINAUDI


Buy from Amazon

-

Download from iTunes

8
7
ISLANDS - ESSENTIAL EINAUDI, LUDOVICO EINAUDI


Buy from Amazon

-

Download from iTunes

9
9
THE DARCEY BUSSELL BALLET COLLECTION, VARIOUS ARTISTS


Buy from Amazon

-

Download from iTunes

10
11
THE 50 GREATEST PIECES OF CLASSICAL , LPO/PARRY


Buy from Amazon

-

Download from iTunes

11
14
LATEST & GREATEST - CLASSICAL STARS, VARIOUS ARTISTS


Buy from Amazon

-

Download from iTunes

12
12
SLEEP, MAX RICHTER


Buy from Amazon

-

Download from iTunes

13
15
THE LITTLE MERMAID - OST, ALAN MENKEN


Buy from Amazon

-

Download from iTunes

14
5
STAR WARS - THE ULTIMATE SOUNDTRACK COLLECTION, JOHN WILLIAMS


Buy from Amazon

-

Download from iTunes

15
8
NEW YEAR'S CONCERT 2016, VIENNA PHILHARMONIC/JANSONS


Buy from Amazon

-

Download from iTunes

16
13
MAGIC OF THE VIOLIN, ANDRE RIEU/JOHANN STRAUSS ORCHESTRA


Buy from Amazon

-

Download from iTunes

17
RE-ENTRY
THE GUITAR, MILOS KARADAGLIC


Buy from Amazon

-

Download from iTunes

18
RE-ENTRY
ENDEAVOUR, ORIGINAL TV SOUNDTRACK


Buy from Amazon

-

Download from iTunes

19
17
PROKOFIEV/PETER AND THE WOLF, BOWIE/PHILADELPHIA ORCHESTRA/ORMANDY


Buy from Amazon

-

Download from iTunes

20
21
THE CHOIR - THE ULTIMATE COLLECTION, VARIOUS ARTISTS


Buy from Amazon

-

Download from iTunes

21
NEW
MASCAGNI/CAVALLERIA RUSTICANA, BALTSA/DOMINGO/BANIEWICZ/PONS


Buy from Amazon

-

Download from iTunes

22
19
LOVE IN VENICE, ANDRE RIEU/JOHANN STRAUSS ORCHESTRA


Buy from Amazon

-

Download from iTunes

23
16
STAR WARS TRILOGY , WILLIAMS/SKYWALKER SYMPHONY


Buy from Amazon

-

Download from iTunes

24
27
SHOSTAKOVICH/SYMPHONY NO 7, RLPO/PETRENKO


Buy from Amazon

-

Download from iTunes

25
RE-ENTRY
IN A TIME LAPSE, LUDOVICO EINAUDI


Buy from Amazon

-

Download from iTunes

26
18
40 MOST BEAUTIFUL ARIAS, VARIOUS ARTISTS


Buy from Amazon

-

Download from iTunes

27
NEW
SCHUBERT/BEETHOVEN, GRIGORY SOKOLOV


Buy from Amazon

-

Download from iTunes

28
NEW
ABRAHAMSEN/LET ME TELL YOU, HANNIGAN/BRSO/NELSONS


Buy from Amazon

-

Download from iTunes

29
29
GLADIATOR - OST, HANS ZIMMER & LISA GERRARD


Buy from Amazon

-

Download from iTunes

30
24
NESSUN DORMA - THE PUCCINI ALBUM, JONAS KAUFMANN


Buy from Amazon

-

Download from iTunes