All the winners of the Classic FM Music Teacher of the Year Awards 2023 with ABRSM
25 September 2023, 08:42 | Updated: 2 October 2023, 12:57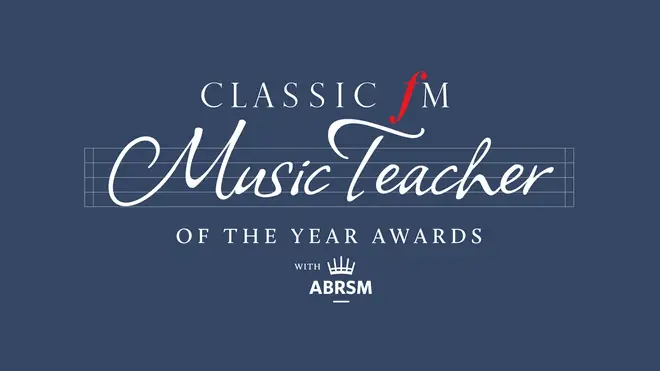 Five outstanding music teachers will be celebrated and rewarded with £3,000 of musical instruments for their school.
After thousands of votes and nominations, and countless inspiring stories told about some of our nation's most dedicated musical educators, it's time to reveal the five winners of The Classic FM Music Teacher of the Year Awards.
The Awards are in partnership with ABRSM, the UK's leading exam board and Classic FM's Partner in Music Education, and recognise music teachers who have made a real difference to the musical lives of young people.
The five categories are:
Teachers of primary school age
Teachers of secondary school age
SEND music teachers
Visiting music teachers
Best music learning initiative
Each category has been judged by a panel of industry experts, with the final category taken to a final public vote following a shortlist chosen by the judges. The five winners will receive up to £3,000 each to spend on musical instruments and equipment for their school and pupils, thanks to Viking.
Lincoln Abbotts, ABRSM's engagement director, said: "These wonderful music teachers make an impact in the lives of those learning and enjoying music every day. After all the challenge and change of the last few years, now is the time for them to take a bow."
And now, it's time to reveal the winners...
Primary School winner: Emily Jones 🏆

Emily Jones teaches music at the Bishop Gilpin Church of England Primary School in Wimbledon, introducing all age groups to repertoire from Fauré, to Lin Manuel Miranda!

She has an extraordinary commitment to music teaching, running and leading an after-school Djembe Drumming club, a Key Stage 1 and Key Stage 2 choir at lunchtimes, and the Bishop Gilpin Community Choir for adults in her spare time. A keen musician herself, Emily also took up the trumpet as a fundraiser for the school, and sat the Grade 1 exam.

Described as the "pride and joy" of her school community, Emily has had a phenomenal impact in her school and produced a flourishing music department against the odds.

One person who nominated Emily said, "She is beloved by everyone who has had the privilege of being taught by her".

Emily Jones teaches multiple musical instruments including the ukulele.

Picture: Courtesy of Emily Jones

Emily Jones teaching drums at Bishop Gilpin Primary School, Wimbledon.

Picture: Courtesy of Emily Jones

SEND winner: Jason Redhead 🏆

Jason Redhead, winner of the SEND (Special Educational Needs and Disabilities) Music Teacher of the Year Award, works with pupils aged four to 18 at Red Kite Special Academy in Northamptonshire, providing music therapy for children with special educational needs.

Nicknamed the 'Music Magician' at Red Kite, Jason has had an immense impact on pupils and teachers' lives over the last few years. He taught through lockdown, making videos for pupils, leading workshops in school holidays and working weekends.

Jason is also heavily involved in his local 'KettFest' Festival in Kettering.

One person who nominated Jason said, "I wish you could meet him and see him with his classes because it's a room full of happy, of noise and of laughter, and the sound of children working together, cheering each other on."

Jason Redhead teaches a child at Red Kite Special Academy how to play drums.

Picture: Courtesy of Jason Redhead

Jason Redhead teaches piano and drums to children aged four to 18.

Picture: Courtesy of Jason Redhead

Visiting Music Teacher winner: Nimai Walcott 🏆

The winner of our Visiting Music Teacher award runs the London MADA music academy, which travels to various schools providing children with an education in music.

Nimai Walcott is a highly qualified music teacher with 23 years' experience. He has taught himself to play multiple instruments, and today he teaches piano, violin, cello, guitar, flute, clarinet, drums, and music theory. His exam pass rate is second to none, taking more than 50 pupils through ABRSM exams and over 40 through LAMDA exams, with a 100 percent success rate.

The author of a book on how to learn piano, Nimai also conducts a variety of arts clubs including chess and dance, and donates books to schools that he teaches in.

One person who nominated Nimai said he is "a selfless human being who has always gone above and beyond for his students [and] exemplifies all that is right and needed in teachers of today. He is a beacon for inclusivity making sure there is no student to young, no disability to serve to stop anybody from learning."

Nimai Walcott teaching a violin student.

Picture: Courtesy of Nimai Walcott

Nimai Walcott playing piano at a school concert.

Picture: Courtesy of Nimai Walcott

Best Music Learning Initiative winner: EA Music Service and Ulster Orchestra 🏆

In November 2022, Northern Ireland's Education Authority Music Service and the Ulster Orchestra worked together to launch their 'Endangered Instruments of the Orchestra' project, combatting gaps in specific orchestral instruments in youth music ensembles across the country.

The first phase of their project was the brilliantly titled 'To Bassoon & Beyond. In 2022-23, seven schools were engaged in the project with 40 children taking up the bassoon – the largest number of new bassoon players that have been learning in Northern Ireland for some time!

Bassoon lessons were delivered in schools weekly by an EA Music Service specialist, and the Ulster Orchestra bassoon players delivered workshops throughout the year. Some learners successfully completed their grade 1 ABRSM bassoon exam in June this year, and there was a grand finale mass play-along featuring the orchestra, the children, and all their tutors.

The second phase of the project will encourage more children to take up the viola, and amid budget constraints, this award will help to purchase 12 to 13 violas. As well as elevating the presence of endangered instruments, this project prides itself on giving students the opportunity to connect with their peers and be part of something new, supporting their social interaction and emotional well-being, and creating a sense of belonging and connection with other musicians.

The first phase of their project was 'To Bassoon & Beyond'.

Picture: Courtesy of EA Music Service

Seven schools were engaged in the project with 40 children taking up the bassoon.

Picture: Courtesy of EA Music Service

Secondary School winner: Siân Lane 🏆

Siân Lane, winner of the Secondary School award, is described as the "driving force" and "beating heart" of the music department at Shenley Brook End school in Milton Keynes, teaching students from Year 7 to Year 13.

From organising concerts at assemblies and parents evenings, to conducting both teacher and pupil-led ensembles, she promotes music in all aspects of school life. Every year she organises a residential music trip for students in the Peak District, culminating in a school concert on their return. She manages a music mentor scheme which allows older students to help younger, less experienced students, and has helped guide students into being accepted at some of the most prestigious music schools in the world including Kings College Cambridge & Sydney Conservatorium of Music.

Under her leadership, Shenley Brook End became the first school in Milton Keynes to be awarded Music Mark membership – an award for schools demonstrating a commitment to music education. "Music has become a significant special feature of the school under her leadership, no mean feat for a regularly funded state school," one nominator said of Siân's work.

Another person who nominated her said Siân is, "The epitome of a dedicated, nurturing and inspirational music educator. Her students speak so highly of her ability to connect with them personally and train them to reach their potential. Many credit her for sparking their lifelong love of music. I can't think of a more deserving nominee for Music Teacher of the Year. She embodies all that is great about arts education."

Siân Lane teaches music at Shenley Brook End School.

Picture: Courtesy of Siân Lane