Gramophone Awards 2016: pianist Igor Levit wins Recording of the Year
15 September 2016, 21:33 | Updated: 15 December 2016, 11:50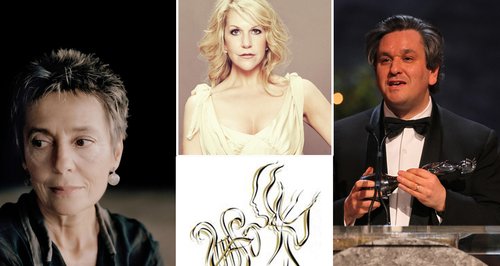 Rachel Podger and Andris Nelsons also take awards this year, while Christa Ludwig was honoured with a Lifetime Achievement Award
Pianist Igor Levit won the top award at this year's Gramophone Awards when his recital recording of variations by Bach Beethoven and Rzewski was named Recording of the Year 2016.
Conductor Antonio Pappano had led the way in the nominations with five recordings shortlisted – he wins the Opera category for his recent recording of Verdi's Aida. Elsewhere, Vilde Frang wins the Concerto Award.
Win a signed copy of the Gramophone Recording of the year! >
The 2016 Lifetime Achievement Award went to mezzo-soprano Christa Ludwig for her career that spanned over 45 years. The Young Artist of the Year Award went to baritone Benjamin Appl, who performed Schubert's song 'Erlkönig' at the ceremony.
The Orchestral category was won by the Boston Symphony Orchestra and Andris Nelsons with their recording of Shostakovich's Symphony No.10.
The Concerto award – supported by Classic FM – was won by violinist Vilde Frang for her performances of Britten and Korngold Violin Concertos.
Markus Stenz's recording of Schoenberg's Gurelieder takes the Choral Award while pianist Igor Levit's album of Bach, Beethoven and Rzewski was named best Instrumental recording.
Warner Classics was named Label of the Year.
Here's the full list of winners
Baroque Instrumental
Biber: Rosary Sonatas
Rachel Podger et al
Channel Classics (dist: RSK)
Baroque Vocal
Monteverdi: Madrigali, Vol 1 - Cremona
Les Arts Florissants / Paul Agnew
Les Arts Florissants (HM)
Chamber
Tippett: String Quartets
Heath Quartet
Wigmore Hall Live (HM)
Choral
Schoenberg: Gurrelieder
Gürzenich-Orchester Köln / Markus Stenz
Hyperion
Concerto
Britten, Korngold: Violin Concertos
Vilde Frang
Frankfurt RSO / James Gaffigan
Warner Classics
Contemporary
Abrahamsen: let me tell you
Barbara Hannigan, BRSO / Andris Nelsons
Winter & Winter (Discovery)
Early Music
Taverner: Western Wind
Taverner Choir & Players / Andrew Parrott
Avie (Proper)
Instrumental
Bach. Beethoven. Rzewski: Variations
Igor Levit
Sony Classical
Opera
Verdi: Aida
Sir Antonio Pappano
Warner Classics
Orchestral
Shostakovich: Symphony No 10
Boston SO / Andris Nelsons
DG
Recital
'Mozart & the Weber Sisters'
Sabine Devieilhe
Pygmalion / Raphäel Pichon
Erato
Solo vocal
'Néere' - Chausson, Duparc, Hahn
Véronique Gens; Susan Manoff
Alpha (RSK)