Classic BRIT Awards Sound of Classical poll shortlist revealed
1 June 2018, 00:00 | Updated: 1 June 2018, 16:08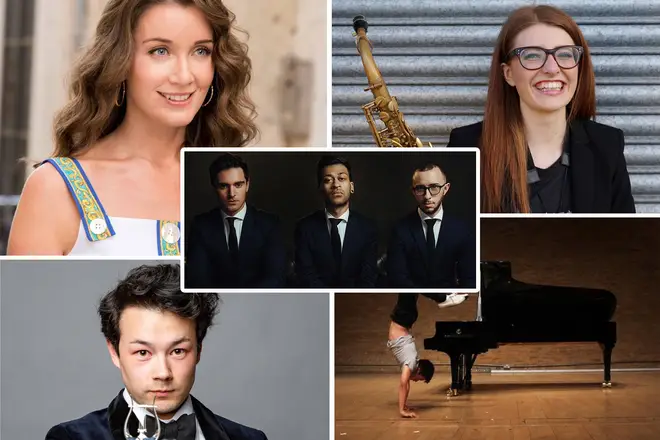 Five future classical stars have been shortlisted in the first ever Sound of Classical poll, with the winner to be revealed at the Classic BRIT Awards on June 13th.
The winner will receive £1000 towards their musical development and will collect the award in person during the Classic BRIT Awards ceremony at the Royal Albert Hall in London, to be broadcast on ITV.
The shortlist:
Carly Paoli (mezzo soprano)
"Nothing fills me with greater joy than being able to share my love for music, and I hope it can inspire more young people to follow their dreams in the same way I was inspired by my predecessors as a child. So being nominated for such a prestigious musical award means EVERYTHING to me."
Carly Paoli - Music Of Heaven (Official Music Video)
Ember Trio
"We are so proud to be nominated for the Sound of Classical 2018 award. It's amazing that the Classic BRITs are shining a light on independent classical talent. We are truly grateful that in such a short space of time we've managed to make a connection through our social media performances (which now have over 150 million views) and are going some way to make classical instruments more appealing to a younger online audience."
Ember Trio - Destiny's Child Medley Violin Cello Cover
George Harliono – Pianist
Born in Hackney, 17 year old pianist George was invited to make his first one hour long, solo recital at the age of nine, making his concerto debut at 12. He is a regular performer with orchestras including The Russian State Orchestra "Evgeny Svetlanov" and The Mariinsky Orchestra with Valery Gergiev. He recently performed to a sold-out Royal Albert Hall with Lang Lang and in Moscow alongside eminent Russian pianist Denis Matsuev.
George Harliono Tchaikovsky Concerto No.1
Jess Gillam – classical saxophonist
"I'm so thrilled to be part of the Sound of Classical Poll. The saxophone is such a versatile and expressive instrument and is not recognised as widely as other instruments in the classical world so it's a real honour to be a part of such a fantastic event. To give a platform for young artists to show their talent to a wider audience is a great idea and I hope it inspires more young musicians."
'Where the Bee Dances' performed by Jess Gillam and Southbank Sinfonia | ABRSM Shine 2017
Sean Shibe – classical guitarist
"The Classic BRITs have always celebrated the scope of classical music as a genre; I'm amazed to be shortlisted for an award this year, knowing past winners and their household names."