Man playing violin to ducks is a pure and beautiful scene
17 February 2020, 11:43 | Updated: 17 February 2020, 11:48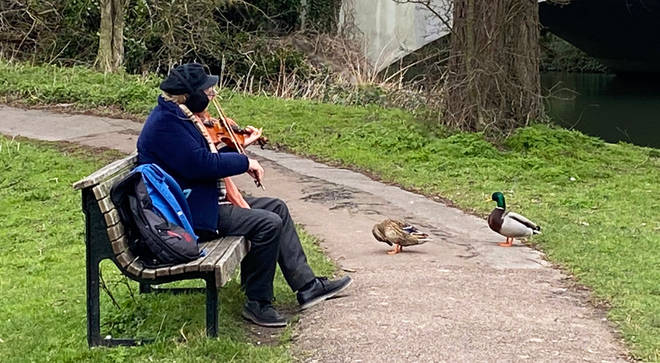 A passer-by captured the sweet moment as the violinist serenaded ducks beside a river in Cambridge.
A man spent Valentine's Day afternoon playing the violin to ducks – and it's the purest thing.
The musician treated a pair (or should that be a raft?) of ducks to an impromptu concert last Friday, 14 February, as he sat on a bench beside the River Cam in Cambridge.
Writer and reviewer Lauren Brown was out for a walk when the sound of the music caught her attention, and she soon spotted the gentleman.
Read more: 7 cute animals that love classical music more than anything >
Just been for a walk and there was a man playing the violin for an audience of 2 ducks and I doubt I'll ever see something so pure and beautiful again in my life pic.twitter.com/qY3wco0dVX

— Lauren Brown (@Laurenrbrown95) February 14, 2020
"It wasn't anything recognisable, it just seemed like the player was just making it up as he went along," she told Cambridgeshire Live.
"Two ducks were stood still watching him, like they were hypnotised by him! I stood and listened and watched for a while and went over to tell him it was beautiful, and he smiled and said no one had said that to him in months.
"It was a profoundly touching thing, the whole scene, and I'm unlikely to forget it."
Lauren shared the moment on Twitter last week, and since then it has had over 70,000 likes. The post has also received multiple heartwarming responses from music lovers sharing similar videos of animals enjoying classical music.
Some birds love music. This chappie on my shoulder often sings his heart out when he hears piano music (and very strangely, when I'm ironing!). Quite the performer. 🐦🎶 pic.twitter.com/KLCraqVR13

— Narender Ramnani 🌹🧠 (@n_ramnani) February 15, 2020
While we're on the subject, we also can't get enough of this lovely camel relaxing to the soothing sounds of the morin khuur, a traditional Mongolian string instrument.