Sir John Eliot Gardiner: who is the conductor and what are his most famous recordings?
24 August 2023, 20:23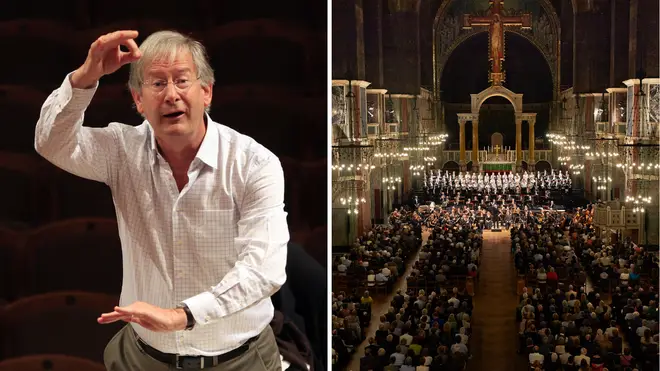 One of Britain's most renowned conductors, Sir John Eliot Gardiner is acclaimed particularly for his performances of Bach's vocal works.
Sir John Eliot Gardiner is a revered English conductor and founder of several classical music ensembles. Particularly famous for his interpretations of Baroque music, to date he has recorded over 250 albums.
In May 2023, during a pre-service programme, Gardiner led his Monteverdi Choir and English Baroque Soloists in a selection of choral music at Westminster Abbey for the coronation of His Majesty the King.
Here's everything you need to know about the 80-year-old conductor.
Read more: Sir John Eliot Gardiner quits festival following accusations he hit singer backstage
When was Sir John Eliot Gardiner born?

Sir John Eliot Gardiner was born on 20 April 1943 in Fontmell Magna, Dorset.

He cut his teeth singing in his local church choir and playing the violin, before he took up conducting aged 15.

After winning a place to study history at King's College, Cambridge, the young maestro launched his career with a performance of the Monteverdi Vespers, which led him to found the famed Monteverdi Choir in 1964.

He also studied for a time in Paris under Nadia Boulanger, the great pedagogue who also taught Leonard Bernstein and Daniel Barenboim.

Sir John Eliot Gardiner conducts his English Baroque Soloists and Monteverdi Choir during rehearsal for Bach's B minor Mass.

Picture: Alamy

What is Sir John Eliot Gardiner best known for?

Gardiner is best known for establishing the Monteverdi Choir, with whom he made his London conducting debut in 1966 at Wigmore Hall, and later the English Baroque Soloists in 1978.

Both ensembles have become renowned for their interpretations of Baroque music on period instruments.

Gardiner also has a period orchestra named Orchestre Révolutionnaire et Romantique, founded in 1989, which specialises in late-classical and early Romantic repertoire.

More than any other composer, Gardiner is particularly known for his recordings and performances of the music of J.S. Bach.

In 2000, to mark the 250th anniversary of Bach's death, Gardiner, the Monteverdi Choir and English Baroque Soloists embarked on a Bach 'Canata Pilgrimage', recording all 200 scared cantatas in tours around Europe. The recordings were initially released on Deutsche Grammophon, and later on Gardiner's own label SDG, for which he still records.

Gardiner is also known for refusing to perform the music of Richard Wagner. In a 2008 interview for Gramophone magazine, Gardiner said, "I really loathe Wagner – everything he stands for – and I don't even like his music very much."

Is Sir John Eliot Gardiner married?

John Eliot Gardiner was married to violinist Elizabeth Wilcock, with whom he has three daughters, from 1981 to 1997.

From 2001 to 2019, he was married to Italian soprano Isabella de Sabata.

John Eliot Gardiner – Bach: Johannes-Passion, BWV 245 / Part I: 1. Herr, unser Herrscher

What are Sir John Eliot Gardiner's most famous recordings?

For over 40 years Gardiner and his Monteverdi Choir have been renowned for their recordings of Bach, Baroque music and the choral music of the ensemble's namesake.

His 1989 recording of Monteverdi's 1610 Vespers was made in St Mark's Basilica in Venice, and is regarded as one of the most spectacular recordings of the 20th century. Making use of the vast Basilica acoustic, it featured supreme instrumental forces and an all-star Baroque vocal cast, including a young Bryn Terfel, the great Welsh bass-baritone, singing bass.

Sir John Eliot Gardiner is most widely associated with the vocal music of Bach. His recordings of the Bach Passions in the 1980s were definitive for their pacy tempos and vocal and instrumental intensity.

The Orchestra Révolutionnaire et Romantique's recording of Beethoven's symphonies is regarded as one of the finest period performance versions of the symphonic cycle.

The Monteverdi Choir and Orchestra with Sir John Eliot Gardiner and international soloists at Westminster Cathedral.

Picture: Alamy