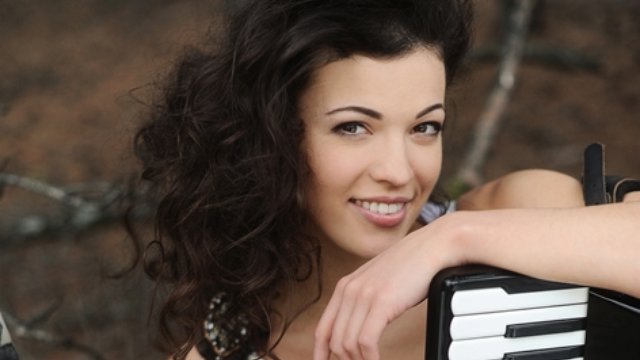 Biography
Ksenija Sidorova was born in Riga, Latvia, in 1988, and begun playing the accordion at the age of 8.

Her grandmother had roots in the folk accordion tradition and was keen for the young Ksenija to take up the instrument.

At 16, she moved to London to study at the Royal Academy of Music as she wanted to explore more classical and contemporary repertoire.

She now plays a huge range of music, from Bach to Berio, and Scarlatti to Schnittke. Her virtuosic debut album, Classical Accordion, impressed critics and demonstrated the 'serious' side of the accordion.

She's gathered an impressive collection of awards, and played with guitarist Miloš Karadaglić, Nicola Benedetti, the Sacconi quartet and the Latvian National Symphony Orchestra. She has also performed at numerous international venues including the Wigmore Hall, the Royal Festival Hall and the Lucerne Festival.

Did you know?

Sidorova spends a lot of time going into schools to introduce children to the accordion. She passionately believes that it's an accessible instrument to take up and is determined to get the accordion onto the classical stage and appreciated by audiences.
View more
Most shared Ksenija Sidorova features