A Minute with Nicholas Owen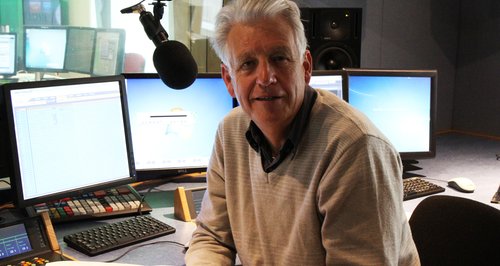 Classic FM's Saturday afternoon presenter Nicholas Owen is a massive railway enthusiast - so not surprisingly steam features in our one minute chat with him.
If you could sit down and have a coffee with one great composer, who would it be?
I'd have to quickly learn German (oh dear!) and have that coffee with Mozart, my favourite. Mind you, he sounds quite a crackerjack to meet: he'd babble on about music, ladies...and no doubt complain about his endless money troubles.
Favourite ever interviewee or guest:
Only very recently on television, I interviewed Frank Williams - one of the few surviving cast members from Dad's Army. He played the vicar. He may be rather frail at 81 but the slightly nasal voice was unmistakable.
If you could be a musical instrument, which would you be?
The piano. Such a flexible instrument. And it sounds terrific whether you're playing one of the top pieces from the Classic FM Hall of Fame, or one of Liberace's numbers!
Most embarrassing on-air moment:
How long have you got?

Who would be your four perfect dinner party guests:
Admiral Nelson, Tommy Cooper, Tony Hancock, and Bill Clinton.
First pet:
First - and only. Zeta, a pint-sized Labrador, which I had when I was about ten.
What's your guilty pleasure:
Having just one more cup of tea...
Most memorable concert you attended:
Mozart's Requiem one freezing night just before Christmas in the cathedral in Vienna. The soloists wore big coats, and so did we! it was unforgettable.
What's your favourite way to relax:
An interesting railway journey...which is often one I make from my home to Classic FM!
Which superpower would you like to have?
The ability to wave away upsets and problems for my children and (seven) grandchildren.
What's your favourite snack when you're feeling a bit peckish in the Classic FM studio?
A naughty, buttery croissant.
What ambition are you still to fulfill:
I'd love to see Antarctica. Trouble is...my wife doesn't.
All-time favourite piece of music:
Mozart's Requiem (see my favourite concert above).
All-time favourite book:
Engineman Extraordinary by Bill Hoole. The life of a top steam train driver (strictly for the devoted railway enthusiast.)
All-time favourite film:
Citizen Kane. Orson Welles's masterpiece is based not-so-loosely on William Randolph Hearst, a nightmare human being but the cleverest American newspaper proprietor of all time.