David Mellor celebrates the John Wilson Orchestra
24 November 2017, 11:29 | Updated: 24 November 2017, 12:34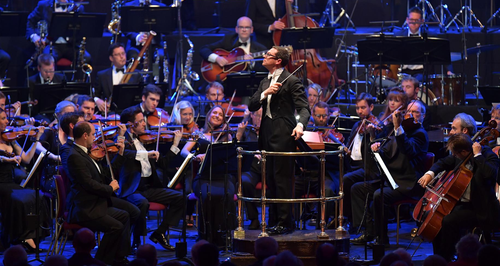 Join David Mellor for an uplifting and entertaining evening with the John Wilson Orchestra, celebrating everything that's lively and fresh about the band.
On Sunday 26th November, David Mellor will be dedicating his entire show to the brilliant recordings of the John Wilson Orchestra. Movie musicals maestro John Wilson and his John Wilson Orchestra will be embarking a new UK tour 'A Celebration of the MGM Film Musicals', starting on November 28th 2017 at Birmingham's Symphony Hall.
The John Wilson Orchestra has established an international reputation performing repertoire from the golden era of Hollywood and Broadway musicals and music for the big screen. Joined by guest soloists Louise Dearman and Matt Ford and (for the first time on tour) the John Wilson Chorus, the John Wilson Orchestra's joyous celebration is an evening not to be missed. The sumptuous sounds of the MGM Studio Orchestra will be revived, featuring music from some of Hollywood's best-loved film musicals including Singin' in the Rain, Show Boat, Annie Get Your Gun and The Bandwagon, amongst others.
> To book tickets for the tour visit www.johnwilsonorchestra.com
"With the John Wilson Orchestra at its most dazzling they could surely see the sparks fly over the Royal Festival Hall all the way from Hollywood."
Financial Times
Tour Dates 2017
TUES 28TH NOV - BIRMINGHAM SYMPHONY HALL
WED 29TH NOV - BRISTOL COLSTON HALL
THUR 30TH NOV - CARDIFF ST. DAVID'S HALL
FRI 1ST DEC - NOTTINGHAM ROYAL CONCERT HALL
SUN 3RD DEC - POOLE LIGHTHOUSE
MON 4TH DEC - LIVERPOOL PHILHARMONIC
TUES 5TH DEC - GATESHEAD SAGE (2 shows)
WED 6TH DEC - GLASGOW ROYAL CONCERT HALL
THURS 7TH DEC - LEEDS TOWN HALL
SAT 9TH DEC - LONDON ROYAL FESTIVAL HALL (2 shows)
MON 11TH DEC - SHEFFIELD CITY HALL
TUES 12TH DEC - MANCHESTER BRIDGEWATER HALL