Classic FM Chart: Sheku Kanneh-Mason holds No. 1 for seventh consecutive week
8 July 2018, 18:55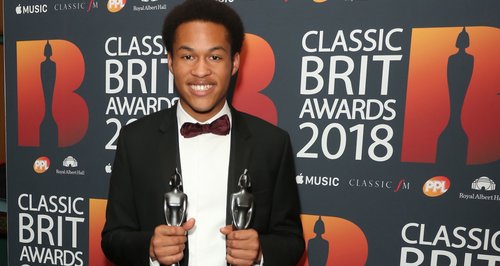 The Royal wedding cellist once again remains unbeatable in the Classic FM Chart, as his debut album 'Inspiration' takes the No. 1 spot for the seventh week in a row.
The chart sees little movement in the top four, with Margaret Keys, John Williams and the LSO and Ludovico Einaudi all holding steady.
As Incredibles 2 hits cinemas around the world, its soundtrack, by Michael Giacchino, has entered the chart at No.7. This is Giacchino's only score in the chart, as Jurassic World: Fallen Kingdom has now fallen out of the top 30.
There are five other new entries this week, including the music to Doctor Atomic, a contemporary opera by John Adams, Handel's finest arias for bass sung by Christopher Purves and a new recording of Debussy's Prélude du 2ème livre by Alexander Melnikov and Olga Pashchenko.
This
Week
Last
Week
Title & Artist
1
1
INSPIRATION, SHEKU KANNEH-MASON


Download from iTunes

-

Buy from Amazon

2
3
ISLANDS - ESSENTIAL EINAUDI, LUDOVICO EINAUDI


Download from iTunes

-

Buy from Amazon

3
4
JOHN WILLIAMS - A LIFE IN MUSIC, LSO/GREENAWAY


Download from iTunes

-

Buy from Amazon

4
2
THE GIFT OF MUSIC, MARGARET KEYS


Download from iTunes

-

Buy from Amazon

5
NEW
ADAMS/DOCTOR ATOMIC, BBC SINGERS/BBC SO/ADAMS


Download from iTunes

-

Buy from Amazon

6
12
THE BLUE NOTEBOOKS, MAX RICHTER


Download from iTunes

-

Buy from Amazon

7
NEW
INCREDIBLES 2 - OST, MICHAEL GIACCHINO


Download from iTunes

-

Buy from Amazon

8
NEW
RHEINBERGER/PIANO CONCERTO, CALLAGHAN/BBC SSO/GERNON


Download from iTunes

-

Buy from Amazon

9
8
THE LITTLE MERMAID - OST, ALAN MENKEN


Download from iTunes

-

Buy from Amazon

10
9
SLEEP, MAX RICHTER


Download from iTunes

-

Buy from Amazon

11
25
THE SHAPE OF WATER, ORIGINAL SOUNDTRACK


Download from iTunes

-

Buy from Amazon

12
11
SOLO - A STAR WARS STORY, JOHN WILLIAMS/JOHN POWELL


Download from iTunes

-

Buy from Amazon

13
15
DIVENIRE, LUDOVICO EINAUDI


Download from iTunes

-

Buy from Amazon

14
14
SCORE, 2CELLOS


Download from iTunes

-

Buy from Amazon

15
21
ELEMENTS, LUDOVICO EINAUDI


Download from iTunes

-

Buy from Amazon

16
6
THE ROYAL WEDDING - OFFICIAL ALBUM 2018, VARIOUS ARTISTS


Download from iTunes

-

Buy from Amazon

17
20
THE 50 GREATEST PIECES OF CLASSICAL, LPO/PARRY


Download from iTunes

-

Buy from Amazon

18
17
THE LORD OF THE RINGS - TRILOGY - OST, HOWARD SHORE


Download from iTunes

-

Buy from Amazon

19
22
IN A TIME LAPSE, LUDOVICO EINAUDI


Download from iTunes

-

Buy from Amazon

20
NEW
HANDEL/FINEST ARIAS FOR BASE, PURVES/ARCANGELO/COHEN


Download from iTunes

-

Buy from Amazon

21
10
GLADIATOR - OST, HANS ZIMMER & LISA GERRARD


Download from iTunes

-

Buy from Amazon

22
NEW
VIVANCO/MISSA ASSUMPSIT, DE PROFUNDIS/HOLLINGWORTH


Download from iTunes

-

Buy from Amazon

23
24
AVENGERS - INFINITY WAR - OST, ALAN SILVESTRI


Download from iTunes

-

Buy from Amazon

24
27
THE LORD OF THE RINGS - OST, HOWARD SHORE
25
5
JOURNEY TO NIDAROS, ALEXANDER CHAPMAN CAMPBELL


Download from iTunes

-

Buy from Amazon

26
13
POLDARK - OST, ANNE DUDLEY


Download from iTunes

-

Buy from Amazon

27
NEW
DEBUSSY/PRELUDES DU 2E LIVRE/LA MER, MELNIKOV/PASHCHENKO


Download from iTunes

-

Buy from Amazon

28
29
CINEMA, ANDREA BOCELLI


Download from iTunes

-

Buy from Amazon

29
30
GAME OF THRONES - SEASON 6 - OST, RAMIN DJAWADI


Download from iTunes

-

Buy from Amazon

30
RE
CLASSICAL CHILLOUT, VARIOUS ARTISTS


Download from iTunes

-

Buy from Amazon