Classic FM Chart: Miloš' Sound of Silence takes the top spot
22 September 2019, 18:55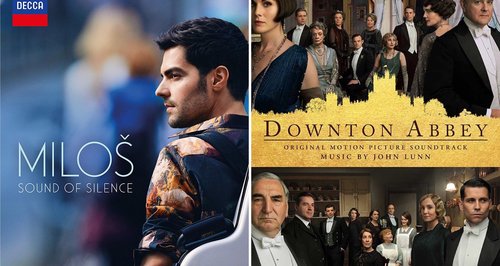 Miloš' new album enters the chart at number one, and the recent release of the Downton Abbey film sends the soundtrack into the sixth position, along with a re-entry of Downton Abbey – The Ultimate Collection.
Guitarist MILOŠ has entered the classical music chart straight at No. 1 with his new release, Sound of Silence. His first recording in quite some time, this collection features covers of Simon & Garfunkel's 'The Sound of Silence', Portishead's 'Sour Times' and Radiohead's 'Street Spirit (Fade Out)' among other crossover arrangements.
Downton Abbey's cinematic debut last week was accompanied by the release of the Downton movie soundtrack, and this week, that – along with the Downton Abbey: Ultimate Collection – appears in the chart.
Our very own Aled Jones also re-enters the classical chart this week, his In Harmony recording with Russell Watson appearing at No. 15.
This
Week
Last
Week
Title & Artist
1
NEW
SOUND OF SILENCE, MILOS KARADAGLIC


Download from iTunes

-

Buy from Amazon

2
1
ISLANDS - ESSENTIAL EINAUDI, LUDOVICO EINAUDI


Download from iTunes

-

Buy from Amazon

3
2
SI, ANDREA BOCELLI


Download from iTunes

-

Buy from Amazon

4
6
SLEEP, MAX RICHTER


Download from iTunes

-

Buy from Amazon

5
7
THE LITTLE MERMAID - OST, ALAN MENKEN


Download from iTunes

-

Buy from Amazon

6
NEW
DOWNTON ABBEY - OST, LONDON CHAMBER ORCH/LUNN


Download from iTunes

-

Buy from Amazon

7
3
AVENGERS - ENDGAME - OST, ALAN SILVESTRI


Download from iTunes

-

Buy from Amazon

8
9
THE BLUE NOTEBOOKS, MAX RICHTER


Download from iTunes

-

Buy from Amazon

9
11
THE LORD OF THE RINGS - TRILOGY - OST, HOWARD SHORE
10
12
THE 50 GREATEST PIECES OF CLASSICAL, LPO/PARRY


Download from iTunes

-

Buy from Amazon

11
10
SEVEN DAYS WALKING - DAY ONE, LUDOVICO EINAUDI


Download from iTunes

-

Buy from Amazon

12
4
PAVAROTTI - OST, LUCIANO PAVAROTTI


Download from iTunes

-

Buy from Amazon

13
13
IN A TIME LAPSE, LUDOVICO EINAUDI


Download from iTunes

-

Buy from Amazon

14
15
UNA MATTINA, LUDOVICO EINAUDI


Download from iTunes

-

Buy from Amazon

15
RE-ENTRY
IN HARMONY, ALED JONES & RUSSELL WATSON


Download from iTunes

-

Buy from Amazon

16
16
THE LORD OF THE RINGS - OST, HOWARD SHORE
17
14
GLADIATOR - OST, HANS ZIMMER & LISA GERRARD


Download from iTunes

-

Buy from Amazon

18
18
EVOLUTION, ALEXIS FFRENCH


Download from iTunes

-

Buy from Amazon

19
27
SCORE, 2CELLOS


Download from iTunes

-

Buy from Amazon

20
23
GAME OF THRONES - SEASON 8 - OST, RAMIN DJAWADI


Download from iTunes

-

Buy from Amazon

21
19
DIVENIRE, LUDOVICO EINAUDI


Download from iTunes

-

Buy from Amazon

22
21
ELEMENTS, LUDOVICO EINAUDI


Download from iTunes

-

Buy from Amazon

23
24
I GIORNI, LUDOVICO EINAUDI


Download from iTunes

-

Buy from Amazon

24
RE-ENTRY
ALL WHO WANDER, JAMIE BARTON/BRIAN ZEGER


Download from iTunes

-

Buy from Amazon

25
NEW
BEETHOVEN/SIBELIUS/VIOLIN CONCERTOS, TETZLAFF/DSO BERLIN/TICCIATI


Download from iTunes

-

Buy from Amazon

26
NEW
BEETHOVEN/THE COMPLETE PIANO SONATAS, IGOR LEVIT


Download from iTunes

-

Buy from Amazon

27
NEW
EVENSONG LIVE 2019-ANTHEMS AND CANTICLES, KING'S CC/CLEOBURY


Download from iTunes

-

Buy from Amazon

28
RE-ENTRY
DOWNTON ABBEY - THE ULTIMATE COLLECTION, LUNN/LONDON CHAMBER ORCH/KING


Download from iTunes

-

Buy from Amazon

29
45
THE 50 GREATEST TRACKS, LUCIANO PAVAROTTI


Download from iTunes

-

Buy from Amazon

30
20
THE GREATEST HITS, LUCIANO PAVAROTTI


Download from iTunes

-

Buy from Amazon