Classic FM Chart: John Suchet's Album of the Week by Karl Jenkins and John Brunning's Drive Discovery by Alistair McGowan enter in the top two spots
8 October 2017, 18:55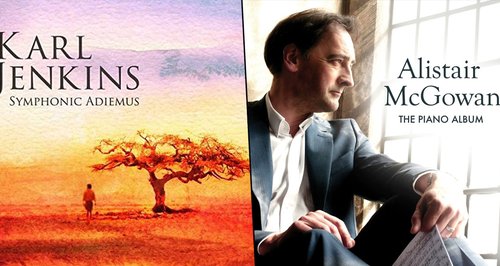 Both John Suchet's Album of the Week, Adiemus by Karl Jenkins, and John Brunning's Drive Discovery, The Piano Album by Alistair McGowan, have entered the Classic FM Chart in the top two spots! The 50 Greatest Pieces of Classical Music by the London Philharmonic Orchestra holds onto its place at no. 3, meanwhile Classic FM presenter Alexander Armstrong is our third new entry this week at no. 4. The top ten also includes this week's highest climber - Max Richter's Three Worlds - Music from Woolf Works which has climbed eleven places from no. 20 up to no. 9.
Just outside the top ten is this week's biggest faller, Hans Zimmer's soundtrack for Dunkirk, which is down ten places from no. 1 to no. 11. Elsewhere in the middle of the chart, Classic FM Silver re enters the chart at no. 13, just above the latest release from Angela Hewitt at no. 14. Bill Murray's first classical album has also entered the Classic FM Chart at no. 19.
In the lower third of the chart, Max Richter's Blue Notebooks has re-entered at no. 23, meanwhile the Takacs Quartet playing Dvorak has entered the chart at no. 27 with further re-entries from Ludovico Einaudi and Karl Jenkins.
This
Week
Last
Week
Title & Artist
1
NEW
SYMPHONIC ADIEMUS, KARL JENKINS


Buy from Amazon

-

Download from iTunes

2
NEW
THE PIANO ALBUM, ALISTAIR MCGOWAN


Buy from Amazon

-

Download from iTunes

3
3
THE 50 GREATEST PIECES OF CLASSICAL MUSIC, LPO/PARRY


Buy from Amazon

-

Download from iTunes

4
NEW
PETER AND THE WOLF, ARMSTRONG/RLPO/PETRENKO


Buy from Amazon

-

Download from iTunes

5
4
ISLANDS - ESSENTIAL EINAUDI, LUDOVICO EINAUDI


Buy from Amazon

-

Download from iTunes

6
10
GAME OF THRONES - SEASON 7 - OST, RAMIN DJAWADI


Buy from Amazon

-

Download from iTunes

7
5
LAST NIGHT OF THE PROMS - THE ULTIMATE, VARIOUS ARTISTS


Buy from Amazon

-

Download from iTunes

8
2
THE AYOUB SISTERS, AYOUB SISTERS


Buy from Amazon

-

Download from iTunes

9
20
THREE WORLDS - MUSIC FROM WOOLF WORKS, MAX RICHTER


Buy from Amazon

-

Download from iTunes

10
6
MY JOURNEY, RAMI BASISAH/PRAGUE PO


Buy from Amazon

-

Download from iTunes

11
1
DUNKIRK - OST, HANS ZIMMER


Buy from Amazon

-

Download from iTunes

12
9
ELEMENTS, LUDOVICO EINAUDI


Buy from Amazon

-

Download from iTunes

13
RE
CLASSIC FM HALL OF FAME - THE SILVER, VARIOUS ARTISTS


Buy from Amazon

-

Download from iTunes

14
NEW
SCARLATTI/SONATAS, ANGELA HEWITT


Buy from Amazon

-

Download from iTunes

15
8
L'OPERA, JONAS KAUFMANN


Buy from Amazon

-

Download from iTunes

16
13
IN A TIME LAPSE, LUDOVICO EINAUDI


Buy from Amazon

-

Download from iTunes

17
17
GLADIATOR - OST, HANS ZIMMER & LISA GERRARD


Buy from Amazon

-

Download from iTunes

18
24
DIVENIRE, LUDOVICO EINAUDI


Buy from Amazon

-

Download from iTunes

19
NEW
NEW WORLDS, BILL MURRAY & JAN VOGLER


Buy from Amazon

-

Download from iTunes

20
16
GAME OF THRONES - SEASON 6 - OST, RAMIN DJAWADI


Buy from Amazon

-

Download from iTunes

21
12
THE LITTLE MERMAID - OST, ALAN MENKEN


Buy from Amazon

-

Download from iTunes

22
14
THE LORD OF THE RINGS - TRILOGY - OST, HOWARD SHORE


Buy from Amazon

-

Download from iTunes

23
RE
THE BLUE NOTEBOOKS, MAX RICHTER


Buy from Amazon

-

Download from iTunes

24
15
SCORE, 2CELLOS


Buy from Amazon

-

Download from iTunes

25
25
CLASSIC FM - WILLIAMS/THE LARK ASCENDING, ASMIF/MARRINER


Buy from Amazon

-

Download from iTunes

26
19
CLASSIC FM - PIANO FAVOURITES, VARIOUS ARTISTS


Buy from Amazon

-

Download from iTunes

27
NEW
DVORAK/STRING QUARTET/STRING QUINTET, TAKACS QUARTET/POWER


Buy from Amazon

-

Download from iTunes

28
RE
UNA MATTINA, LUDOVICO EINAUDI


Buy from Amazon

-

Download from iTunes

29
RE
THE ARMED MAN - A MASS FOR PEACE, KARL JENKINS


Buy from Amazon

-

Download from iTunes

30
29
WONDER WOMAN - OST, RUPERT GREGSON-WILLIAMS


Buy from Amazon

-

Download from iTunes