Classic FM Chart: John Williams's Across the Stars re-enters the chart and soars to No. 4
6 October 2019, 18:55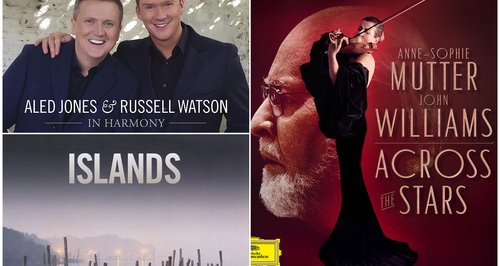 John Williams and Anne-Sophie Mutter re-enter the chart and soar to No. 4 with Across the Stars, while Aled Jones climbs from the bottom of the chart to No. 2.
Anne-Sophie Mutter's Across the Stars collaboration with John Williams re-enters the chart this week, soaring straight to No. 4. The album features some of Williams' most iconic movie themes transcribed for violin.
It sits two positions behind another high climber – Classic FM presenter Aled Jones and Russell Watson's In Harmony, which leaves its position from the previous week at No. 24 to take the No. 2 spot, just behind Einaudi's Islands - Essential Einaudi, which remains steadfast in the top spot.
New entries this week include A Love Letter to Liverpool by Jennifer Johnston, Pavel Kolesnikov's Chopin: Impromptus, Waltzes & Mazurkas and Haydn: String Quartets 71 & 74 by The London Haydn Quartet.
This
Week
Last
Week
Title & Artist
1
1
ISLANDS - ESSENTIAL EINAUDI, LUDOVICO EINAUDI


Download from iTunes

-

Buy from Amazon

2
24
IN HARMONY, ALED JONES & RUSSELL WATSON


Download from iTunes

-

Buy from Amazon

3
4
SI, ANDREA BOCELLI


Download from iTunes

-

Buy from Amazon

4
RE-ENTRY
ACROSS THE STARS, MUTTER/RECORDING ARTS OR LA


Download from iTunes

-

Buy from Amazon

5
3
SOUND OF SILENCE, MILOS KARADAGLIC


Download from iTunes

-

Buy from Amazon

6
2
SEVEN DAYS WALKING - DAY SEVEN, LUDOVICO EINAUDI


Download from iTunes

-

Buy from Amazon

7
7
THE LITTLE MERMAID - OST, ALAN MENKEN


Download from iTunes

-

Buy from Amazon

8
11
THE 50 GREATEST PIECES OF CLASSICAL, LPO/PARRY


Download from iTunes

-

Buy from Amazon

9
5
MY MUSIC MY WORLD - THE VERY BEST OF, ANDRE RIEU & JOHANN STRAUSS OR


Download from iTunes

-

Buy from Amazon

10
10
THE LORD OF THE RINGS - TRILOGY - OST, HOWARD SHORE
11
6
SLEEP, MAX RICHTER


Download from iTunes

-

Buy from Amazon

12
9
THE BLUE NOTEBOOKS, MAX RICHTER


Download from iTunes

-

Buy from Amazon

13
12
SEVEN DAYS WALKING - DAY ONE, LUDOVICO EINAUDI


Download from iTunes

-

Buy from Amazon

14
15
AVENGERS - ENDGAME - OST, ALAN SILVESTRI


Download from iTunes

-

Buy from Amazon

15
17
IN A TIME LAPSE, LUDOVICO EINAUDI


Download from iTunes

-

Buy from Amazon

16
16
UNA MATTINA, LUDOVICO EINAUDI


Download from iTunes

-

Buy from Amazon

17
RE-ENTRY
STRAUSS/FOUR LAST SONGS, NORMAN/GEWANDHAUS OR/MASUR


Download from iTunes

-

Buy from Amazon

18
18
THE LORD OF THE RINGS - OST, HOWARD SHORE
19
NEW
A LOVE LETTER TO LIVERPOOL, JOHNSTON/HOGARTH/RLPO


Download from iTunes

-

Buy from Amazon

20
19
GLADIATOR - OST, HANS ZIMMER & LISA GERRARD


Download from iTunes

-

Buy from Amazon

21
22
DIVENIRE, LUDOVICO EINAUDI


Download from iTunes

-

Buy from Amazon

22
8
DOWNTON ABBEY - OST, LONDON CHAMBER ORCH/LUNN


Download from iTunes

-

Buy from Amazon

23
NEW
CHOPIN/IMPROMPTUS WALTZES & MAZURKAS, PAVEL KOLESNIKOV


Download from iTunes

-

Buy from Amazon

24
RE-ENTRY
THE WORLD OF - A SYMPHONIC CELEBRATION, HANS ZIMMER


Download from iTunes

-

Buy from Amazon

25
28
ELEMENTS, LUDOVICO EINAUDI


Download from iTunes

-

Buy from Amazon

26
NEW
HAYDN/STRING QUARTETS OPP 71 & 74, LONDON HAYDN QUARTET


Download from iTunes

-

Buy from Amazon

27
RE-ENTRY
100 HITS - RELAXING CLASSICS, VARIOUS ARTISTS


Download from iTunes

-

Buy from Amazon

28
26
I GIORNI, LUDOVICO EINAUDI


Download from iTunes

-

Buy from Amazon

29
25
EVOLUTION, ALEXIS FFRENCH


Download from iTunes

-

Buy from Amazon

30
21
GAME OF THRONES - SEASON 8 - OST, RAMIN DJAWADI


Download from iTunes

-

Buy from Amazon