Classic FM Chart: Einaudi's 'Islands' is back on top
21 October 2018, 18:55 | Updated: 22 October 2018, 08:34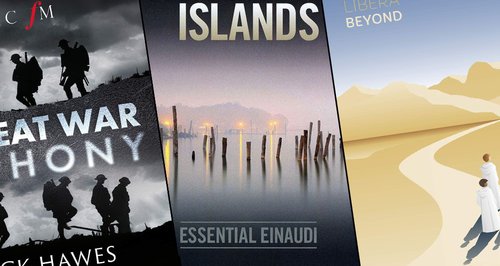 Einaudi has jumped back to No.1 after one week at No.2. It's joined on the Classic FM Chart with four new entries.
Nothing keeps Einaudi away from the No.1 spot for long – after just a week at No.2, Islands takes its place back at the top of the chart. The No.2 album, Life by Igor Levit, has gained momentum and moved up four places since its chart entry last week.
The Great War Symphony by Patrick Hawes commemorating the centenary of the end of World War One is now at No.4. It's followed by Libera's new album Beyond, which enters the chart at No.5. Other new albums on the chart this week are Destination Rachmaninov – Departure by Daniil Trifonov and The Philadelphia Orchestra conducted by Yannick Nézet-Séguin, Music for Brass Septet Vol.6 by Septura, and Bailar Cantando by Jodi Savall.
Re-entries into the chart mean that John Williams now holds three places on the chart and Andrea Bocelli has two albums there too. But Einaudi still leads with an impressive five albums in the chart.
This
Week
Last
Week
Title & Artist
1
2
ISLANDS - ESSENTIAL EINAUDI, LUDOVICO EINAUDI


Download from iTunes

-

Buy from Amazon

2
6
LIFE, IGOR LEVIT


Download from iTunes

-

Buy from Amazon

3
4
THE REAL CLASSICAL, VARIOUS ARTISTS


Buy from Amazon

4
1
THE GREAT WAR SYMPHONY, HAWES/RPO/NATIONAL YOUTH CHRS


Download from iTunes

-

Buy from Amazon

5
NEW
BEYOND, LIBERA


Download from iTunes

-

Buy from Amazon

6
5
EVOLUTION, ALEXIS FFRENCH


Download from iTunes

-

Buy from Amazon

7
NEW
DESTINATION RACHMANINOV - DEPARTURE, TRIFONOV/PHILADELPHIA OR


Download from iTunes

-

Buy from Amazon

8
11
THE LITTLE MERMAID - OST, ALAN MENKEN


Download from iTunes

-

Buy from Amazon

9
7
INSPIRATION, SHEKU KANNEH-MASON


Download from iTunes

-

Buy from Amazon

10
8
THE 50 GREATEST PIECES OF CLASSICAL, LPO/PARRY


Download from iTunes

-

Buy from Amazon

11
12
DIVENIRE, LUDOVICO EINAUDI


Download from iTunes

-

Buy from Amazon

12
13
THE LORD OF THE RINGS - TRILOGY - OST, HOWARD SHORE


Download from iTunes

-

Buy from Amazon

13
9
SLEEP, MAX RICHTER


Download from iTunes

-

Buy from Amazon

14
RE
CINEMA, ANDREA BOCELLI


Download from iTunes

-

Buy from Amazon

15
18
THE LORD OF THE RINGS - OST, HOWARD SHORE
16
14
GLADIATOR - OST, HANS ZIMMER & LISA GERRARD


Download from iTunes

-

Buy from Amazon

17
RE
VAUGHAN WILLIAMS/A SEA SYMPHONY, FARNSWORTH/LLEWELLYN/BBC SO


Download from iTunes

-

Buy from Amazon

18
17
IN A TIME LAPSE, LUDOVICO EINAUDI


Download from iTunes

-

Buy from Amazon

19
15
ELEMENTS, LUDOVICO EINAUDI


Download from iTunes

-

Buy from Amazon

20
NEW
BRASS SEPTETS - VOL 6, SEPTURA


Download from iTunes

-

Buy from Amazon

21
3
JOHN WILLIAMS - A LIFE IN MUSIC, LSO/GREENAWAY


Download from iTunes

-

Buy from Amazon

22
24
THE COMPLETE HARRY POTTER FILM MUSIC, CITY OF PRAGUE PO


Download from iTunes

-

Buy from Amazon

23
20
SCORE, 2CELLOS


Download from iTunes

-

Buy from Amazon

24
21
THE BLUE NOTEBOOKS, MAX RICHTER


Download from iTunes

-

Buy from Amazon

25
16
BACH/SIX EVOLUTIONS - CELLO SUITES, YO-YO MA


Download from iTunes

-

Buy from Amazon

26
NEW
BAILAR CANTANDO - FIESTA MESTIZA EN EL, CAPELLA REIAL/SAVALL


Download from iTunes

-

Buy from Amazon

27
22
UNA MATTINA, LUDOVICO EINAUDI


Download from iTunes

-

Buy from Amazon

28
27
HARRY POTTER & THE PHILOSOPHER'S STONE, JOHN WILLIAMS


Download from iTunes

-

Buy from Amazon

29
RE
CONCERTO - ONE NIGHT IN CENTRAL PARK, ANDREA BOCELLI


Download from iTunes

-

Buy from Amazon

30
RE
CLASSICAL CHILLOUT, VARIOUS ARTISTS


Download from iTunes

-

Buy from Amazon