Classic FM Chart of the year 2016: Aled Jones takes no.1 and no.2 spots
1 January 2017, 18:55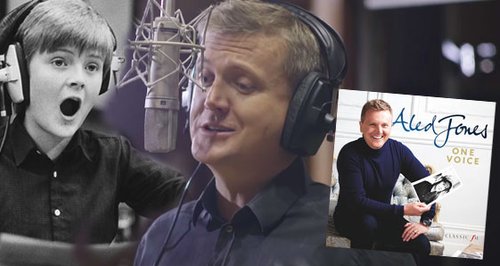 Classic FM presenters have taken the top three positions in the list of best-selling classical albums of 2016, with Aled Jones at 1 and 2 and Alexander Armstrong at no.3.
Aled Jones took the no.1 spot with his innovative album, One Voice, in which he duetted with his younger self on a series of popular folk songs. The no.2 chart spot was occupied by a seasonal take on the idea, One Voice at Christmas.
Fellow broadcaster and Classic FM presenter Alexander Armstrong took the third spot with A Year of Songs.
Elsewhere in the chart, John Williams's soundtrack for the new Star Wars film, The Force Awakens, came in at no.4 and Classic FM's Album of the Year, Lost Songs of St Kilda, charted at 21.
Classic FM Chart of the Year 2016
Position
Title & Artist
1
-
ONE VOICE, ALED JONES


Buy from Amazon

-

Download from iTunes

2
-
ONE VOICE AT CHRISTMAS, ALED JONES


Buy from Amazon

-

Download from iTunes

3
-
A YEAR OF SONGS, ALEXANDER ARMSTRONG


Buy from Amazon

-

Download from iTunes

4
-
CINEMA, ANDREA BOCELLI


Buy from Amazon

-

Download from iTunes

5
-
STAR WARS - THE FORCE AWAKENS OST, JOHN WILLIAMS


Buy from Amazon

-

Download from iTunes

6
-
CELEBRATION, KATHERINE JENKINS


Buy from Amazon

-

Download from iTunes

7
-
BELIEVE - SONGS OF INSPIRATION, RICHARD & ADAM


Buy from Amazon

-

Download from iTunes

8
-
THE CLASSICAL ALBUM, VARIOUS ARTISTS


Buy from Amazon

-

Download from iTunes

9
-
HOME FOR CHRISTMAS, MILITARY WIVES CHOIRS


Buy from Amazon

-

Download from iTunes

10
-
MAGIC OF THE WALTZ, ANDRE RIEU


Buy from Amazon

-

Download from iTunes

11
-
ISLANDS - ESSENTIAL EINAUDI, LUDOVICO EINAUDI


Buy from Amazon

-

Download from iTunes

12
-
BILL TURNBULL'S RELAXING CLASSICS, VARIOUS ARTISTS


Buy from Amazon

-

Download from iTunes

13
-
ROMAN HOLIDAY, ANDRE RIEU & JOHANN STRAUSS ORCHESTRA


Buy from Amazon

-

Download from iTunes

14
-
CLASSIC FM - A NIGHT AT THE MOVIES, VARIOUS ARTISTS


Buy from Amazon

-

Download from iTunes

15
-
BRUNO TONIOLI: AN ITALIAN ROMANCE, VARIOUS ARTISTS


Buy from Amazon

-

Download from iTunes

16
-
A GREAT BRITISH CHRISTMAS, GARETH MALONE


Buy from Amazon

-

Download from iTunes

17
-
THE 50 GREATEST PIECES OF CLASSICAL, LPO/PARRY


Buy from Amazon

-

Download from iTunes

18
-
ELEMENTS, LUDOVICO EINAUDI


Buy from Amazon

-

Download from iTunes

19
-
STAR WARS - EPISODE 4 - A NEW HOPE - OST, LSO/WILLIAMS


Buy from Amazon

-

Download from iTunes

20
-
LAST NIGHT OF THE PROMS - THE ULTIMATE, VARIOUS ARTISTS


Buy from Amazon

-

Download from iTunes

21
-
THE LOST SONGS OF ST KILDA, MORRISON/SFO/MACMILLAN


Buy from Amazon

-

Download from iTunes

22
-
BATMAN V SUPERMAN - DAWN OF JUSTICE - OST, LSO/WILLIAMS


Buy from Amazon

-

Download from iTunes

23
-
VIVA OLYMPIA, ANDRE RIEU & JOHANN STRAUSS ORCHESTRA


Buy from Amazon

-

Download from iTunes

24
-
100 HITS - RELAXING CLASSICS, VARIOUS ARTISTS


Buy from Amazon

-

Download from iTunes

25
-
FOR QUEEN AND COUNTRY, VARIOUS ARTISTS


Buy from Amazon

-

Download from iTunes

26
-
BEST OF CHRISTMAS, ANDRE RIEU & JOHANN STRAUSS ORCHESTRA


Buy from Amazon

-

Download from iTunes

27
-
CANTATA MEMORIA - FOR THE CHILDREN, KARL JENKINS


Buy from Amazon

-

Download from iTunes

28
-
DECEMBER LIGHTS, ANDRE RIEU


Buy from Amazon

-

Download from iTunes

29
-
NOW THAT'S WHAT I CALL CLASSICAL, VARIOUS ARTISTS


Buy from Amazon

-

Download from iTunes

30
-
SLEEP, MAX RICHTER


Buy from Amazon

-

Download from iTunes

31
-
GAME OF THRONES - SEASON 6 - OST, RAMIN DJAWADI


Buy from Amazon

-

Download from iTunes

32
-
PART/TALLIS/BYRD/THE DEER'S CRY, SIXTEEN/CHRISTOPHERS


Buy from Amazon

-

Download from iTunes

33
-
IN A TIME LAPSE, LUDOVICO EINAUDI


Buy from Amazon

-

Download from iTunes

34
-
BELIEVE, JONATHAN ANTOINE


Buy from Amazon

-

Download from iTunes

35
-
STAR WARS - EPISODE 5 - THE EMPIRE,


Buy from Amazon

-

Download from iTunes

36
-
THE MUSICAL ZODIAC, NATIONAL SO/WISEMAN


Buy from Amazon

-

Download from iTunes

37
-
CAROLS FROM KING'S COLLEGE CAMBRIDGE, KING'S COLLEGE CHOIR/WILLCOCKS


Buy from Amazon

-

Download from iTunes

38
-
40 MOST BEAUTIFUL ARIAS, VARIOUS ARTISTS


Buy from Amazon

-

Download from iTunes

39
-
MORRICONE 60, ENNIO MORRICONE


Buy from Amazon

-

Download from iTunes

40
-
STAR WARS TRILOGY, WILLIAMS/SKYWALKER SYMPHONY


Buy from Amazon

-

Download from iTunes