Classic FM Chart: Andre Rieu's 'Happy Days' is crowned as the Christmas number one
22 December 2019, 18:55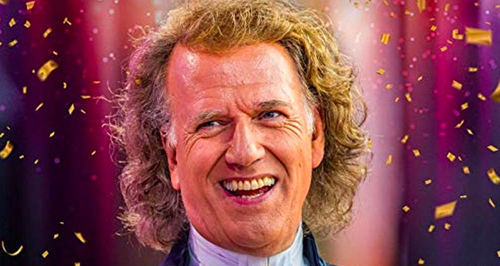 The coveted Christmas number one is crowned this week - and it's André Rieu's 'Happy Days'.
After a year packed with fantastic classical releases, the sought after top spot of Christmas number one has been crowned – and it's Happy Days by André Rieu which takes the top spot.
Closely behind are Classic FM presenter Aled Jones and Russell Watson with their album Back in Harmony, which sits at No. 2, followed closely by Andrea Bocelli's Si Forever, which takes the No. 3 position.
The four artists have held a tight grasp over the top three spots in the chart for the past few weeks – fighting off competition from John Williams, the Choir of King's College and Einaudi.
There are only two new entries in the chart this week, including John Williams' soundtrack to the recently released Star Wars: The Rise of Skywalker, and Christmas by the Gesualdo Six.
This
Week
Last
Week
Title & Artist
1
1
HAPPY DAYS, ANDRE RIEU & JOHANN STRAUSS OR


Download from iTunes

-

Buy from Amazon

2
2
BACK IN HARMONY, ALED JONES & RUSSELL WATSON


Download from iTunes

-

Buy from Amazon

3
3
SI FOREVER, ANDREA BOCELLI


Download from iTunes

-

Buy from Amazon

4
5
CHRISTMAS PORTRAITS, RICK WAKEMAN


Download from iTunes

-

Buy from Amazon

5
4
CAROLS FROM KING'S COLLEGE CAMBRIDGE, KING'S COLLEGE CHOIR/WILLCOCKS


Download from iTunes

-

Buy from Amazon

6
7
SI, ANDREA BOCELLI


Download from iTunes

-

Buy from Amazon

7
6
CHRISTMAS AT KING'S, KING'S COLLEGE CHOIR


Download from iTunes

-

Buy from Amazon

8
10
HOME ALONE - OST, JOHN WILLIAMS


Download from iTunes

-

Buy from Amazon

9
9
ISLANDS - ESSENTIAL EINAUDI, LUDOVICO EINAUDI


Download from iTunes

-

Buy from Amazon

10
13
THE GREAT BRITISH CAROL COLLECTION, CHOIR OF TRINITY COLLEGE


Download from iTunes

-

Buy from Amazon

11
12
IN HARMONY, ALED JONES & RUSSELL WATSON


Download from iTunes

-

Buy from Amazon

12
11
CHRISTMAS AT DOWNTON ABBEY, VARIOUS ARTISTS


Download from iTunes

-

Buy from Amazon

13
16
THE JOHN RUTTER CHRISTMAS ALBUM, CAMBRIDGE SINGERS/RUTTER


Download from iTunes

-

Buy from Amazon

14
NEW
STAR WARS - THE RISE OF SKYWALKER - OST, JOHN WILLIAMS


Download from iTunes

-

Buy from Amazon

15
14
BEST OF CHRISTMAS, ANDRE RIEU & JOHANN STRAUSS OR


Download from iTunes

-

Buy from Amazon

16
25
CHRISTMAS CAROLS WITH, LIBERA


Download from iTunes

-

Buy from Amazon

17
8
MUSIC FOR HEALING, GARETH MALONE


Download from iTunes

-

Buy from Amazon

18
15
100 YEARS OF NINE LESSONS & CAROLS, KING'S CC/WILLCOCKS/LEDGER


Download from iTunes

-

Buy from Amazon

19
17
ESSENTIAL CAROLS, KING'S COLLEGE CHOIR/WILLCOCKS


Download from iTunes

-

Buy from Amazon

20
19
THE COLOURS OF CHRISTMAS, JOHN RUTTER


Download from iTunes

-

Buy from Amazon

21
22
CAROLS FROM CAMBRIDGE - THE VERY BEST, KING'S COLLEGE CHOIR


Download from iTunes

-

Buy from Amazon

22
29
INSPIRATION, SHEKU KANNEH-MASON


Download from iTunes

-

Buy from Amazon

23
24
SEVEN DAYS WALKING - DAY ONE, LUDOVICO EINAUDI


Download from iTunes

-

Buy from Amazon

24
23
THE NATION'S FAVOURITE CAROLS, RPO/CITY LONDON CH/WETTON


Download from iTunes

-

Buy from Amazon

25
18
GREATEST CHRISTMAS CAROLS - 50, VARIOUS ARTISTS


Download from iTunes

26
RE-ENTRY
LIVE IN CONCERT, ANDRE RIEU


Buy from Amazon

27
RE-ENTRY
CLASSIC FM - CAROLS FROM KING'S, KING'S COLLEGE CHOIR/WILLCOCKS


Download from iTunes

-

Buy from Amazon

28
27
THE WORLD OF - A SYMPHONIC CELEBRATION, HANS ZIMMER


Download from iTunes

-

Buy from Amazon

29
NEW
CHRISTMAS, GESUALDO SIX/PARK


Download from iTunes

-

Buy from Amazon

30
20
ROYAL FIREWORKS, ALISON BALSOM/BALSOM ENSEMBLE


Download from iTunes

-

Buy from Amazon