The Classic FM Chart - Sunday 10 April 2016, 5pm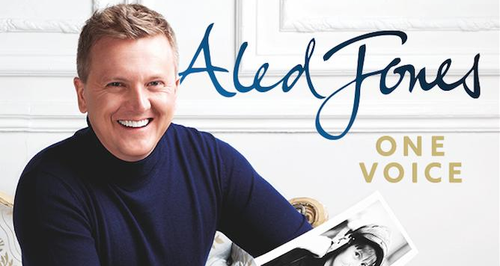 Aled Jones takes on Superman and Batman. Welshman wins!
On last week's Classic FM Chart, Hans Zimmer's music for Batman V. Superman zoomed straight into the No.1 spot. This week, in a miraculous display of superhuman strength, Classic FM's very own Aled Jones toppled the comic book heroes to have his biggest chart success since Walking in the Air made the Top Ten in 1985. Aled's One Voice album features him duetting with his choirboy self at 15 years old – and very beautiful it is too.
New Aled Jones album beats Zayn and Justin Bieber in pop charts >
Elsewhere two of Classic FM's Albums of the Week make it into our new chart. Stephen Hough's stunning recording of the Dvorak and Schumann piano concertos enters at No.4 and this week's featured album from Norwegian choral master Ola Gjeilo enters at No. 7.
This
Week
Last
Week
Title & Artist
1
NEW
ONE VOICE, ALED JONES


Buy from Amazon

-

Download from iTunes

2
2
BATMAN V SUPERMAN - DAWN OF JUSTICE OST, HANS ZIMMER/JUNKIE XL


Buy from Amazon

-

Download from iTunes

3
1
BATMAN V SUPERMAN - DAWN OF JUSTICE OST, HANS ZIMMER/JUNKIE XL


Buy from Amazon

-

Download from iTunes

4
NEW
DVORAK/SCHUMANN/PIANO CONCERTOS, HOUGH/CBSO/NELSONS


Buy from Amazon

-

Download from iTunes

5
5
A YEAR OF SONGS, ALEXANDER ARMSTRONG


Buy from Amazon

-

Download from iTunes

6
4
ISLANDS - ESSENTIAL EINAUDI, LUDOVICO EINAUDI


Buy from Amazon

-

Download from iTunes

7
NEW
OLA GJEILO, GJEILO/TENEBRAE/VOCES8/LCO


Buy from Amazon

-

Download from iTunes

8
8
STAR WARS TRILOGY, WILLIAMS/SKYWALKER SYMPHONY


Buy from Amazon

-

Download from iTunes

9
3
CINEMA, ANDREA BOCELLI


Buy from Amazon

-

Download from iTunes

10
NEW
SCARLATTI/18 SONATAS, YEVGENY SUDBIN


Buy from Amazon

-

Download from iTunes

11
7
THE 50 GREATEST PIECES OF CLASSICAL , LPO/PARRY


Buy from Amazon

-

Download from iTunes

12
6
ELEMENTS, LUDOVICO EINAUDI


Buy from Amazon

-

Download from iTunes

13
9
ROMAN HOLIDAY, ANDRE RIEU/JOHANN STRAUSS ORCHESTRA


Buy from Amazon

-

Download from iTunes

14
11
STAR WARS - THE FORCE AWAKENS - OST, JOHN WILLIAMS


Buy from Amazon

-

Download from iTunes

15
NEW
HOWELLS/COLLEGIUM REGALE, TRINITY COLLEGE CHOIR/LAYTON


Buy from Amazon

-

Download from iTunes

16
NEW
AMUSE-BOUCHE, I FAGIOLINI/ANNA MARKLAND


Buy from Amazon

-

Download from iTunes

17
RE-ENTRY
YOU RAISE ME UP - THE BEST OF, ALED JONES


Buy from Amazon

-

Download from iTunes

18
RE-ENTRY
SPECTRE - OST, THOMAS NEWMAN


Buy from Amazon

-

Download from iTunes

19
NEW
L'ESTRANGE/ON EAGLES' WINGS, TENEBRAE/SHORT


Buy from Amazon

-

Download from iTunes

20
10
ELGAR/SYMPHONY NO 1, STAATSKAPELLE BERLIN/BARENBOIM


Buy from Amazon

-

Download from iTunes

21
12
SLEEP, MAX RICHTER


Buy from Amazon

-

Download from iTunes

22
13
SPANISH GUITAR MUSIC, JOHN WILLIAMS


Buy from Amazon

-

Download from iTunes

23
NEW
HERBERT/CELLO CONCERTOS NOS 1&2, KOSOWER/ULSTER OR/FALLETTA


Buy from Amazon

-

Download from iTunes

24
14
IN A TIME LAPSE , LUDOVICO EINAUDI


Buy from Amazon

-

Download from iTunes

25
NEW
BARTOK/MIKROKOSMOS 6, CEDRIC TIBERGHIEN


Buy from Amazon

-

Download from iTunes

26
24
NOW THAT'S WHAT I CALL CLASSICAL, VARIOUS ARTISTS


Buy from Amazon

-

Download from iTunes

27
21
RODRIGO/CONCIERTO DE ARANJUEZ, JOHN WILLIAMS


Buy from Amazon

-

Download from iTunes

28
RE-ENTRY
LOVE IN VENICE, ANDRE RIEU


Buy from Amazon

-

Download from iTunes

29
19
40 MOST BEAUTIFUL ARIAS, VARIOUS ARTISTS


Buy from Amazon

-

Download from iTunes

30
25
THE ULTIMATE CLASSIC FM HALL OF FAME, VARIOUS ARTISTS


Buy from Amazon

-

Download from iTunes