EastEnders brought back Sonia's trumpet again – and social media is having a meltdown
16 September 2019, 12:38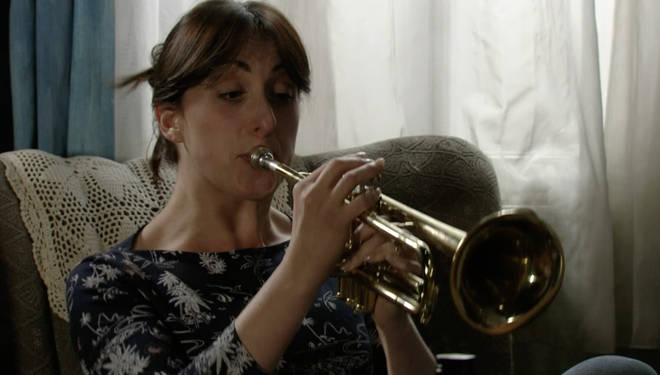 Sonia Fowler's iconic trumpet made a welcome return in the latest episode of EastEnders – and although her performance fell a little flat, fans couldn't get enough.
Sonia Fowler was reunited with her trumpet in the last episode of EastEnders – and fans have come out in droves to have their say on social media.
Following a few glasses of bubbly, Sonia and her siblings, Bianca and Robbie, reminisced about their embarrassing stories – before Robbie surprised Sonia with her beloved trumpet.
"I haven't played this for 20 years," she said as she took the instrument.
Read more: These are the 12 best TV themes from a music theory point of view >
The long-anticipated reunion was only brief, however, as Sonia gave a few feeble blows and struggled to carry a tune.
The trumpet has made multiple appearances in the soap over the years, and was heralded 'the greatest comeback in show history' by one Twitter user in 2018 when it was last seen.
A Facebook post from the official EastEnders account announcing the reunion received thousands of comments and reactions from fans of the soap.
One fan tweeted: "Omg Sonia's trumpet! The talent, the elegance of it all."
Another EastEnders fan account added: "Long live Sonia and her trumpet!"
Sonia, played by Natalie Cassidy, first appeared in the soap in 1993, and started learning the instrument as a child.
It's a shame that her performance only got a moment of screen time – but we'll be keeping our eyes peeled for future trumpet appearances...
crying at sonia and her trumpet i can't look at natalie cassidy the same way again after that video

— abbey ✨ (@baileysbarlow) September 13, 2019
I started playing the trumpet again last year after a 32 year break. I call myself the Sonia Jackson of Salisbury. At least she's holding it properly this time around! Poor Natalie, I don't think she was ever taught properly back in the day, I'm sure she'd be loads better now. 🎺 pic.twitter.com/1TjZfKYQpY

— Vermillion Gecko (@VermillionGecko) September 15, 2019