Michael Ball and Alfie Boe's 6 greatest songs
6 July 2018, 11:33 | Updated: 6 July 2018, 11:36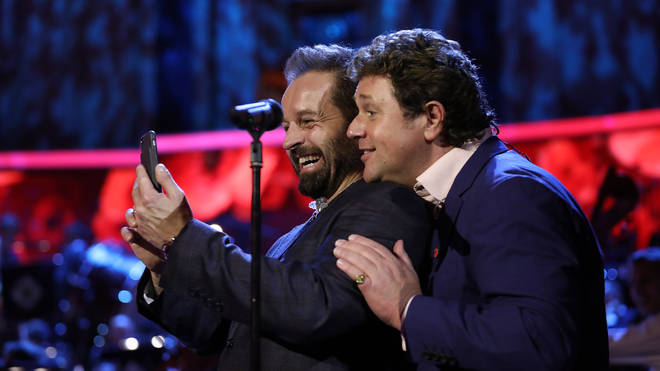 The irresistible duo have taken the classical and pop worlds by storm with their musical theatre medleys, scooping up two UK No. 1 albums and becoming the guilty pleasure in everyone's record collection. These are, we think, Ball and Boe's best songs.
From their No. 1 albums Together and Together Again, here are Michael Ball and Alfie Boe's greatest cover songs.
He Lives in You

The glorious African choral song was written and performed by Lebo M. and his South African Choir, and is used twice in the musical version of The Lion King – now the most successful stage show of all time. But there's something in the drama of Ball and Boe's cover version which just makes you want to leap onto your bed and sing into your hairbrush.

West Side Story Medley

If there's one thing Ball and Boe have managed to make their calling card, it's musical medleys. This zealous Bernstein mash-up, which seamlessly moves from 'Maria' to 'Something's Coming', ends on a fabulously symphonic version of 'Tonight'. If this doesn't leave a smile on your face, surely no medley will.

The Prayer

It might be Andrea Bocelli and Celine Dion's signature song, but that wasn't going to stop Ball and Boe taking it on. Their version of 'The Prayer' is full of belting harmonies, over-the-top Italian and lovely moments of tender falsetto. We like.

Les Misérables Medley

Ball and Boe's reading of Schönberg's soundtrack is just as you'd expect: big, brassy and plaintive, with excessive emotion aplenty. In all seriousness, Boe's vocals are genuinely lovely on 'Bring Him Home' – sweet, soft and beautifully pure on the high notes.

Bring Me Sunshine

On 1 December 2017, Ball and Boe recorded 'Bring Me Sunshine' with a few friends, to raise money for children who are seriously ill at Christmas. The line-up included Bryn Terfel, Mel Giedroyc and the fabulous Imelda Staunton ­– and every penny went to children's charity Rays of Sunshine. Nice work, lads.

Music of the Night

It's a big, belting ballad with epic harmonies, and it's what Ball and Boe do best. Lloyd Webber's music is the perfect fit for the duo's voices: Ball has the theatricality, while Boe has the exquisite high notes, making for some top-notch musical storytelling.