Tim Lihoreau's February Limericks
20 February 2018, 14:43 | Updated: 21 March 2018, 09:13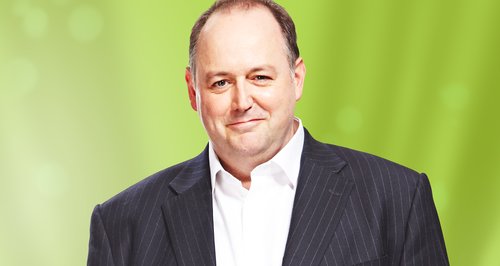 Once January was well and truly over - the clouds had lifted, the gloom had cleared and children sang again, Tim Lihoreau decided, for no really good reason, to write a limerick every day he did the More Music Breakfast in February.
Sometimes, it turned into two. Sometimes, he did them in his spare time. Here are the results so far...
Please get in touch if you have a topic to suggest or a limerick to contribute.
Thursday 1st February
Instrumental music teachers, suggested by Gill Eccles, an instrumental teacher in Staffs.
A music teacher, quite aesthetically,
Craved a job 'round the world', but poetically.
In a move irreversible,
She joined a submersible,
And taught periscope, peripatetically.
Gill, a musician from Staffs,
Taught the great and the good, just for laughs.
And to teach instrumental,
- while intercontinental -
Yielded sheaves of first-class autographs.
Friday 2nd February
Charles 1st, suggest by Patrick in Lanarkshire
Charles the First said "Regarding my reign,
Though you could say I'm feeling the strain,
The executioner's axe
Will sort 1) my Death Tax,
2) A haircut, 3) This migraine.
Monday 5th February
Trombones, suggested by John Suchet
John Suchet's can play his trombone.
Whilst holding his own microphone.
Though he once got tongue-tied
Lost control of his slide,
And strained his occipital bone.
John Suchet adores haute-couture.
So he went on a rather grand-tour
In Milan, on his own,
He practised trombone,
Now he has one pure Dior embouchure.
Tuesday 6th February
Trees, in honour of the Woodland Trust
I love trees so much, I could eat 'em.
For me, you quite simply can't beat 'em.
But my wife tends to fume,
Since I've turned the spare room,
Into a fully-working, green arboretum.
Wednesday 7th February
Fine Arts, suggested by Bethanne Brummel on Twitter
In a quest to find out about culture,
I bought a stuffed red-headed vulture,
But my chainsaw collided,
And rent it divided.
Now it's sold - as a Damien Hirst sculpture.
Fine Artists (…and how to spot them)
For the painter… a beret and goatee.
For sculptors...a cravat. Something floaty.
Architects - linen suits.
(They'll truck no substitutes)
Chunky sweater? Means probably poet-y.
Another for luck...
The fine arts are largely…conjecture.
Whether paint, sculpture or architecture.
I don't buy Millet.
And Le Corbusier
and Duchamp, they both misdirecture.
Thursday 8th February
Buses and Elon Musk's rocket
Elon Musk, a bold person who dares.
Launched a car into orbit - sans spares.
But a routemaster bus
Would have been far less fuss.
And there'd always be more space upstairs.
Friday 9th February
Organists, suggested by Simon in Northwich
Organists are one-offs, no mistake:
Gangly legs; no shoes; secret handshake.
But they do deserve medals
Just for learning the pedals
There's a 16-foot clutch, and no brake.
Saturday 10th February
Winter Olympics
The 'Peace' Olympics are quite huge.
Enjoyed by most, save the odd scrooge.
Let's hope there's no cheating
amongst all competing.
One would hate subterfuge on the luge.
Monday 12th February
In honour of More Music Breakfast listener Mike Hardy
Mike Hardy. From Middleton Cheney.
Two children. Retired. Very brainy.
One wife who is fab.
7 grandkids, one lab.
Now a limerick. What sweet miscellany!
Tuesday 13th February
Weather suggested by Anita Wade on Twitter
A meteorologist – let's call her Heather -
Wished to truly brave all kinds of weather.
I saw her, one day, go
out in a tornado
In rapture - and in the …altogether.
Wednesday 14th February
Love and Valentines, suggested by Jo Forrest
Long distance love
Full-on lovers across the Atlantic.
His kindness verged on sycophantic,
She found it compeling
He'd correct her spelling,
the frantic pedantic romantic.
'Chemistry' between us.
This love story takes quite some telling
She woke, early doors, in his dwelling
And before they had kissed
This trained pharmacist
".gnillews taht rof gnihtemos uoy evig ll'I" diaS
Thursday 15th February
In honour of Julie Walters
In honour of Dame Julie Walters
The Classic FM schedule now alters.
On Saturday at 9
the music is fine -
fugues, operas, symphonies and psalters.
She brings her warm style - and view points -
one which seldom disappoints.
I'd say she is easily
my favourite Weasley.
The programme is called…Turning Points.
Friday 16th February
In praise of Dom Parsons
Dom Parsons, in skeleton suit,
Bagged a bronze so it's him we salute.
He outslid, he outplayed 'em,
He beat, he bob-slayed 'em.
The Brit King of the circumvolute.
Monday 19th February
Having no subject for today's limerick…
This limerick has not got a topic -
my own fault for being so myopic.
I've been so distracted.
Hence - finger not extracted
despite choices kaleidoscopic.
Tuesday 20th February
In honour of Wigan Athletic
Bravo to Wigan Athletic
Last night was somewhat frenetic.
They were tough, they were gritty,
Beating Manchester City
WIN THE CUP NOW! (I'm being prophetic).
Wednesday 21st February
In honour of the Academy of Operative Dentistry Annual Meeting
At the meeting of operative denists,
I found myself wrongly apprenticed
I packed my briefcase
Said "I'm in the wrong place,
I was after for the Seventh Day Adventists!"
Saturday 24th February
In honour of missing limericks
I'm short of a limerick, or two.
(Thursday was my Waterloo)
I was so overworked
or I blew it & shirked,
depending on your point of view.
I didn't write one Friday, either.
This really is more than a breather.
So, please – "Je m'excuse!"
I had words with my muse:
She's ready. So now I'll un-sheath her.
Monday 26th February
The Weather
The chances of snow have increased.
They call it The Beast from the East
Should we all get manic.
Should we all panic.
My view is not in the least.
Tuesday 27th February
International Polar Bear Day
The lack of a polar ice cap
Will push polar bears off the map.
I'm simply informing
about global warming -
it's more than a polaroid snap.
Wednesday 28th February
Suggested by Angie Letteboar for her choir
The Shoreham Oratorio Choir
always set Sussex on fire.
Their fine repartee
- sweet SATB -
is a heavenly soul magnifier.