John Suchet's South Australia Journal
11 January 2017, 14:31 | Updated: 27 January 2017, 10:31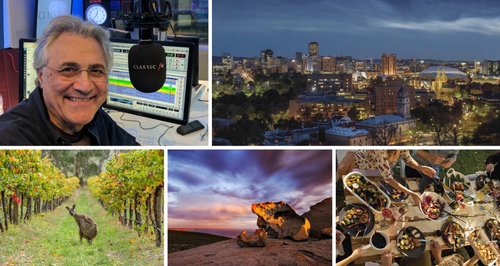 For a week, John Suchet is swapping the Classic FM studio for the sun, sights and good music of Adelaide and South Australia.
Meet John Suchet - radio presenter, former news reader, Beethoven and Mozart scholar, silver fox and general national treasure. He spends his days playing the classical hits in our London studio, or travelling around the UK enjoying the best concerts the country has to offer.
We knew this week that something was up when John jumped on @ClassicFM authored this somewhat cryptic tweet...
.@johnsuchet1 has a very special announcement coming up! Picture clue below & yes, it's meant to be that way around! https://t.co/XE7YexMZi5 pic.twitter.com/OtegcP1Hiu

— Classic FM (@ClassicFM) January 16, 2017
That's right, our star presenter is heading down under, specifically to South Australia and the wonderful sights, tastes, (classical) sounds and, of course, the people of Adelaide. And you won't have to miss a minute of his show, as John will be broadcasting live on Classic FM at the usual UK time of 9am-1pm, just from the other side of the world.
John's going to keep us updated on his adventures - so check in below to see the latest!
Monday 23 January - greetings from a musical Adelaide!
John kicked off his time in South Australia with a musical exploration.
And after that he was live on Classic FM presenting the world's greatest music - and what a view from the studio!
About to broadcast live from Adelaide, South Australia. Presenting @ClassicFM all week from this beautiful city! pic.twitter.com/7Sje6ZiWAO

— John Suchet (@johnsuchet1) January 23, 2017
Tuesday 24 January - some classical music, and a glass of wine...
All this week, John Suchet is broadcasting from one of the world's greatest wine regions. He's spoken to the winemaker, who cheerfully reports that this year's vintage is going to be a fantastic one!
John also had a little theory about wine and classical music, that he wanted to put to the test...
This does look like a very lovely way to spend a day!
Getting ready to go on air @ClassicFM Adelaide studio. It's been a wine tasting day at South Australia's premiere wine Penfolds! pic.twitter.com/biHfvxhrpe

— John Suchet (@johnsuchet1) January 24, 2017
Wednesday 25 January - making new friends!
Time to meet some of the incredible, talented people in this part of the world - we said hello to Lachlan Colwill, Head Chef at Hentley Farm in the beautiful Barossa Valley. We also met Adelaide Symphony Orchestra Concertmaster, Natsuko Yoshimoto. Lovely people!
Thursday 26 January - It's Australia Day! (and this calls for some music)
Kangaroos wallabies & koalas ran for cover as I serenaded a magical sunset on
Kangaroo Island, South Australia pic.twitter.com/5d7eIMx0of

— John Suchet (@johnsuchet1) January 26, 2017
A special day, and John brought his instrument to help in the celebrations. What a magical setting on Kangaroo Island, and there was only one tune for it!
Friday 27 January - Cricket and a beautiful musical moment...
John meets soprano Greta Bradman, granddaughter of legendary cricketer Sir Donald Bradman. She sang us one of the first songs her grandpa sung to her - and it's just so beautiful. What an incredible family.