Classical music's most glamorous stars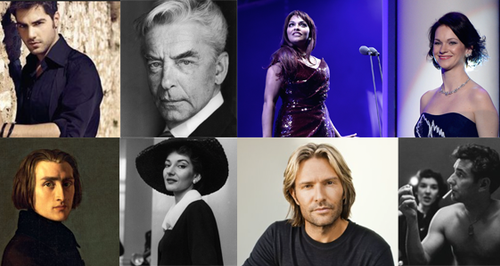 Everything You Ever Wanted to Know about Classical Music, Sunday 26 June 9pm.
On this week's show, Catherine Bott asks the question, "Who were (or are) the most glamorous people in classical music?"

Of course, a great musician doesn't need to look a million dollars to be a consummate player. But carrying oneself with style and living the high life can do wonders for a career and the art form itself.

Tonight, Catherine surveys some composer/performers who drove audiences wild in their day – Paganini and Liszt.

In the mid-20th century, Leonard Bernstein, Herbert von Karajan and Maria Callas typified a new breed of jet set, modern classical performer.

And among today's most glamorous stars we'll be hearing from the violinist Hilary Hahn, the pin-up Montenegrin guitarist Milos Karadaglic, the stunning soprano Danielle de Niese, and the immaculately coiffured Eric Whitacre.