Everything You Ever Wanted to Know about Classical Music, Sunday 24 July 2016, 9pm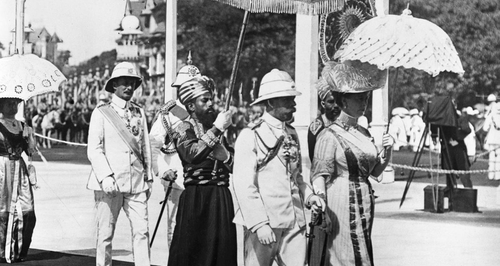 How has India inspired classical music?
This week, Catherine Bott travels deep into the mysterious sub-continent to discover how India has exerted a fascination on composers from the Baroque era to the present day.
The composers on show this week range from Vivaldi to Philip Glass. Vivaldi's 1730 opera Argippo is set in an Indian royal court and centres around a young princess smitten by a dishonest suitor.
In the 19th century that there was a real flourishing of musical interest in India. Anton Rubinstein's opera Feramors, composed in 1862, tells the story of a Hindustani princess, while Si j'etais Roi by Adolphe Adam was given a lavish production in 1852, with expensive costumes and jewels being worn by the cast. Lakmé by Delibes, despite its sublime Flower Duet is essentially a critique of the impact of colonialism on Indian traditions. And Albert Roussel was inspired by his visit to a ruined city in Rajasthan to write his opera Padmâvatî, into which he incorporated many features of Indian music.
Elgar's The Crown of India was written for the visit of King George V and Queen Mary to Delhi for their coronation as Emperor and Empress of India (pictured), while Holst indulged his interest in mysticism with his Choral Hymns from the Rig Veda.
Catherine comes a little more up to date with stirring film music by John Williams from Indiana Jones & The Temple of Doom and the closing moments of Philip Glass's opera, Satyagraha inspired by the life of Mahatma Gandhi.