Everything You Ever Wanted to Know about Classical Music, Sunday 24 April 2016, 9pm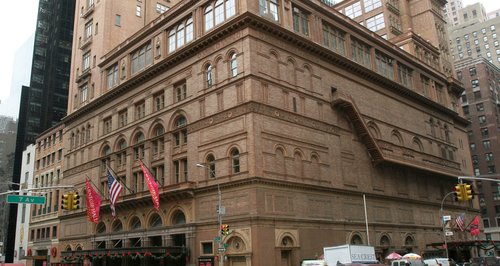 Catherine Bott celebrates the 125th anniversary of America's most iconic concert hall.
This week, Catherine Bott marks the 125th anniversary of the opening of New York's most iconic venue by repeating the old joke, "How do you get to Carnegie Hall?"
Named after Andrew Carnegie, who funded its construction, the hall officially opened on 5 May 1891 with a concert conducted by Walter Damrosch and none other than Tchaikovsky himself. We hear music from the Russian composer tonight.
The NBC Symphony Orchestra, conducted by Toscanini, frequently recorded in the Main Hall for RCA Victor. In 1950, the orchestra's weekly broadcast concerts were moved there until the orchestra disbanded four years later. Tonight Catherine has classic performances recorded at the venue by the NBC Symphony Orchestra under Toscanini, including one featuring Vladimir Horowitz on piano.
The great cellist Rostropovich did a marathon at Carnegie Hall in 1967. We hear something from it it tonight. There's also music from the great violinist Jascha Heifetz who saved Carnegie Hall from demolition.
And it was the venue for the 80th birthday recital by pianist Shura Cherkassky, and a more recent recital from Lang Lang.